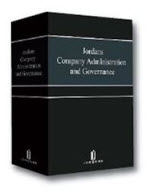 Jordan Publishing Company Administration and Governance Precedents
Forms & Precedents
Update 121 (November 2019):

Precedents
This source contains the Precedents from Jordan Publishing Company Administration and Governance.

This title is an essential reference tool for in-house lawyers, company secretaries, directors, accountants and company secretarial service providers.

Described as "an indispensable aid to the busy company secretary", Jordan Publishing Company Administration and Governance provides you with practical guidance in all the key areas of company administration and compliance, in a form that is easily accessible. Whether you need help on changing the accounting reference date of a company, choosing a name for a new venture or reviewing the company's insurance cover, this resource has it covered.

This title includes a vast array of information on all matters relating to private and public company administration and corporate governance in England and Wales. In addition to summarising the law, it provides useful footnotes with commentary on market practice.

Note to customers

You may notice some changes to the look and numbering system of the pages of your latest looseleaf release, and the issue may be larger than an average update. We are in the process of standardising the look and feel of Jordan Publishing titles to align with other publications in the LexisNexis portfolio and will be releasing larger chunks of content until the entire looseleaf has been published in this new format. Rest assured, issues will remain comprehensive and up to date during this standardisation process and the cost of any increase in extent as a result of the transition will not be passed on to you.