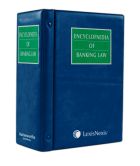 Encyclopaedia of Banking Law
This content is unique to LexisNexis
Commentary
SOURCE CURRENCY
Issue 177, September 2020
UPDATE INFORMATION
The following areas of the title have been updated:
Division D: Domestic Banking Operations
Chapter 7: Bank status opinions or references
Chapter 8: Banks and investment advice
Chapter 9: Banks as Bailees
Chapter 11: Service Banking
Division F2: The Effect of Insolvency on Banking and Finance Transactions
Chapter 1: Introduction to Division F2
Chapter 2: English corporate insolvency proceedings
Chapter 3: Gathering and Administering the Insolvent Estate
Chapter 4: The insolvency of banks in the UK: The Banking Act 2009
Chapter 5: Cross-border insolvencies
UK Statutory Materials
Please be advised that the UK statutory divisions (Divisions G & I) previously maintained in this looseleaf have been removed. Fully consolidated and annotated UK legislation can be accessed through LexisLibrary. This service provides over 86,000 enactments dating back to 1266, with all new enactments loaded onto LexisLibrary within 24 hours of publication.
Please visit
www.lexisnexis.co.uk/en-uk/products/lexis-library.page
for a free trial or call or speak to your Account Manager.
Title related current awareness
Current awareness alerts
relating to Banking Law can be set up on Lexis®Library, while the LexisNexis
Loan Ranger blog
provides a useful free resource for legal updates and other helpful content relating to banking and finance law and practice..