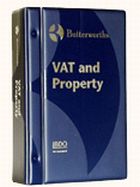 VAT and Property
This content is unique to LexisNexis
Commentary
VAT and Property provides a comprehensive guide to VAT as it affects property construction, development and investment, and all other transactions concerning land and buildings. VAT and Property will prove invaluable both to firms of chartered surveyors and practitioners dealing in this area.

SOURCE CURRENCY
Issue 79, September 2020

Note to customers

In addition to general updating please note the following cases have been included



Cosham v Revenue & Customs Comrs [2019] UKFTT 119 (TC), see [7.270]


Safeguard Europe Ltd v Revenue & Customs Comrs [2013] UKFTT 145 (TC), see [7.730C]


The following updates have been included

Details of the reduced rate of VAT for the renovation or alterations of empty dwellings, see [7.661]–[7.670]


Information on HMRC's clarification on whether damp proofing products can be treated as energy-saving materials that are liable to VAT at the reduced rate, see [7.716C]–[7.716E]


Details of the VAT treatment of deposits outlined in Revenue & Customs Brief 13/18 which explains the revised rules relating to accounting for VAT on retained payments and deposits from 1 March 2019, see [9.152J]


A summary of HMRC's review of the impact of the CJEU decision in DNB Banka AS (C-326/15) [2018] STC 1915 on housing associations as outlined in Revenue &Customs Brief 8/19, see [9.213H]–[9.213K]


For subscriptions and filing enquiries, see the customer queries information which is printed at the end of the filing instructions that follow this page.