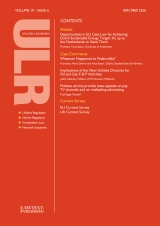 Utilities Law Review
Journal
A bimonthly peer-reviewed journal covering the regulatory and competition law aspects of network industries including the energy, communications and transport sectors in the UK and EU.
Utilities Law Review offers comprehensive coverage of the following sectors:
Electricity;
Gas;
Broadcasting and Telecommunications;
Transport;
Water; and
Nuclear energy.
This is the defining journal in this fast changing field, providing:
detailed and expert commentary on the law and regulations that affect utility undertakings;
analysis of developments in competition law, market regulation, state aid and public procurement;
analysis of the EU Commission liberalisation, implementation and enforcement policies in this sector;
analysis of national governments policies, implementation and enforcement; and
notice of forthcoming events and new publications.
Editorials - Articles - Case Comments - News Reports - Book Reviews.
ISSN: 0960-2356
© Lawtext Publications Ltd