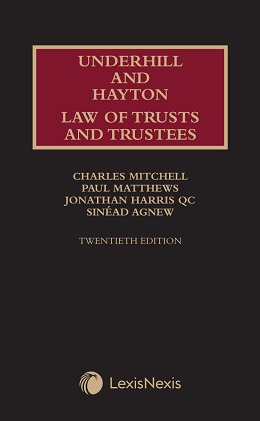 Underhill and Hayton: Law of Trusts and Trustees
This content is unique to LexisNexis
Commentary
SOURCE CURRENCY
20th Edition, March 2022

Underhill & Hayton Law of Trusts and Trustees is our flagship Trusts title. Written by renowned experts in the field this major work provides practitioners with expert commentary on the law of trusts and trustees and is a guide to all legal developments relating to trusts. It examines legislation and case law, including cases from significant offshore trust jurisdictions likely to affect UK trust law - beneficial to those working in Trusts both at legal practices as well as banks and accountancy firms.

Its easy reference format takes you through the definitions of trusts, administration of trusts and consequences of breaches of trust. Whatever stage you are advising clients at, you will find all the information you need in Underhill and Hayton.

New to this edition:

- Division One has been reorganised, and two new Articles have been introduced, the first examining 'commercial' uses of trusts, the second so-called 'sham trusts' and 'illusory trusts'. It is argued that the latter are not distinct categories of trust, the relevant authorities holding only that in some situations where settlors purport to create trusts there is no trust at all. Recent cases in point are Clayton v Clayton (No 1) [2016] NZSC 29, [2016] 1 NZLR 551; JSC Mezhdunarodniy Bank v Pugachev [2017] EWHC 2426 (Ch), (2017) 20 ITELR 905; and Webb v Webb [2020] UKPC 22, [2021] 1 FLR 448.

- Division Two contains an expanded discussion of the principles in line with which the courts construe trust documents, as stated and applied in North v Wilkinson [2018] EWCA Civ 161, [2018] 4 WLR 41; First National Trust (UK) Ltd v McQuitty [2020] EWCA Civ 107; and National Stadium Project (Grenada) Corporation v NH International (Caribbean) Ltd [2020] UKPC 25, (2020) 194 Con LR 1, among other authorities.

- Division Two also features discussion of FSHC Group Holdings Ltd v GLAS Trust Corp Ltd [2019] EWCA Civ 1361, [2020] Ch 365 and Ralph v Ralph [2021] EWCA Civ 1106, [2021] 4 WLR 128 and their impact on the rules relating to the rectification of trust documents. It considers the relationship between the common law test for mental capacity to create trusts and the test for mental capacity under the Mental Capacity Act 2005 in light of important first instance decisions, including James v James [2018] EWHC 43 (Ch), [2018] WTLR 1313 and Re Clitheroe (Deceased) [2021] EWHC 1102 (Ch), [2021] WTLR 449.

- Division Three features an expanded account of fiduciary law, one part of which concerns the imposition of constructive trusts on profits made by fiduciaries without authorisation. The cases on fiduciaries surveyed here include Ancient Order of Foresters in Victoria Friendly Society Ltd v Lifeplan Australia Friendly Society Ltd [2018] HCA 43, (2018) 265 CLR 1; Children's Investment Fund Foundation (UK) v Attorney General [2020] UKSC 33, [2021] 1 All ER 809; Sim Poh Ping v Winsta Holding Pte Ltd [2020] SGCA 35, [2020] 1 SLR 1199; Wood v Commercial First Business Ltd [2021] EWCA Civ 471, [2021] 3 WLR 395; Gray v Global Energy Horizons Corporation [2020] EWCA Civ 1668, [2021] 1 WLR 2264; and Crown Prosecution Service v Aquila Advisory Ltd [2021] UKSC 49, [2021] 1 WLR 5666.

- Division Four contains a new Chapter 16, on 'Powers of protectors and other persons charged with supervising trustees', developing material from previous editions in a stand-alone chapter, in recognition of the increased use of such officers within settlements, particularly offshore. This practice has triggered several important cases, including Blenkinsop v Herbert [2017] WASCA 87, (2017) 51 WAR 264; Re the X Trusts [2021] SC (Bda) 72 Civ (7 September 2021); and In the Matter of the Piedmont Trust and the Riviera Trust [2021] JRC 248. In Chapter 13, the anti-money-laundering section has been rewritten, particularly in the light of the Criminal Finances Act 2017, including the introduction of 'unexplained wealth orders'.

- In Chapter 21, note is taken of Price v Saundry [2019] EWCA Civ 2261, [2020] WTLR 233 where it was for the first time established that it is possible to use a claim for account, without pleading any breach of trust, to establish such a breach, and then be awarded the costs of doing so. In Chapter 22, the section on jurisdiction has been rewritten in the light of Brexit, and a new section on construction of trusts has been added.

- Division Five begins with an account of trustee liability, and notes the reluctance of lower courts to follow the controversial decision in AIB Group (UK) plc v Mark Redler & Co Solicitors [2014] UKSC 58, [2015] AC 1503, which itself reaffirmed the decision in Target Holdings Ltd v Redferns (a firm) [1996] AC 421, but which, like Target Holdings, departed from many older cases about trustee liability to reconstitute depleted trust funds following unauthorised misapplications of trust property.

- Division Six has been substantially expanded in scope, with new sections on the law applicable to dishonest assistance and knowing receipt claims and expanded treatment of choice of law issues relating to constructive and resulting trusts. There is a new section on firewall legislation in offshore jurisdictions designed to insulate local law trusts from certain foreign laws and judgments, with a particular focus on the position in the Cayman Islands, Jersey and the British Virgin Islands. The impact of the withdrawal of the United Kingdom from the European Union on the law relating to jurisdiction and the recognition and enforcement of judgments is analysed, along with changes to the rules on service out of the jurisdiction affecting trusts and developments on the construction and effect of trusts jurisdiction and forum for administration clauses. Important new decisions are analysed, including Akers v Samba Financial Group [2017] UKSC 6, [2017] AC 424 and Investec Trust (Guernsey) Ltd v Glenalla Properties Ltd [2018] UKPC 7, [2019] AC 271.