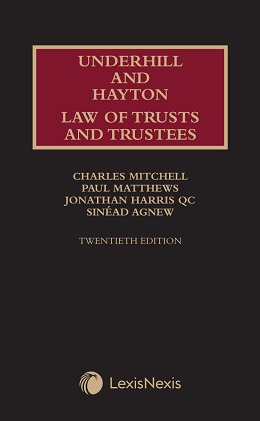 Underhill and Hayton: Law of Trusts and Trustees
This content is unique to LexisNexis
Commentary
Over five years have elapsed since the 18th edition and there has been significant re-writing of parts of Articles to take account of over two hundred cases in England and other significant trust jurisdictions, and to cover the Trusts (Capital and Income) Act 2013, the Presumption of Death Act 2013, and the Inheritance and Trustees' Powers Act 2014.

PUBLISHER'S NOTE
This online version of Underhill and Hayton has been consolidated to include the updating material from the 1st Supplement to the 19th edition which published in November 2017.

In particular, the 19th edition includes:

* Division One - revisions to take account of recent literature dealing with the nature of beneficiaries' rights and of fiduciary obligations and the position of a protector. It also compares trusts with foundations now that some common law jurisdictions have legislated for foundations as an alternative to trusts.
* Division Two - revisions to clarify the law further in relation to sham trusts, the parameters for Quistclose trusts, the formalities required by s 53 of the Law of Property Act 1925 and the setting aside or rectifying settlor's settlements in the light of Futter v Futter [2013] UKSC 26.
* Division Three - significant developments on resulting trusts of company property and on illegality that may be relevant in resulting trust claims; constructive trusts of family homes; how bribes and secret commissions are to be held on constructive trust; and vendor-purchaser constructive trusts.
* Division Four - new material on the Trusts (Capital and Income) Act 2013 and demergers; on Family Court orders for disclosure of interests under trusts; on setting aside the exercise of powers for mistake or by reason of the fact that the power would not have been exercised as it was by the trustee but for overlooking a relevant consideration in breach of trust; and on the extent to which the court can treat a power as having been validly exercised even in the absence of any conscious consideration of the power.
* Division Five - new material dealing with the impact of Supreme Court and Privy Council cases covering breach of trust claims for misapplication of trust funds; the ambit of the rules in the tracing process and the scope of 'notice' in establishing whether a purchaser is protected as a purchaser without notice; and limitation periods for constructive trustees.
* Division Six - developments as to choice of jurisdiction clauses and as to self-declared trusts, capacity to create a trust and Articles 4 and 15 of the Hague Trusts Convention as covered in Akers v Samba Financial Group [2014] EWCA Civ 1516; and the Recast Brussels Regulation No 1215/2012 (replacing Regulation No 44/2001) and the Succession Regulation No 650/2012.
* A new Division Seven - designed to help trust lawyers from a common law system when dealing with trust matters involving lawyers from civil law systems.