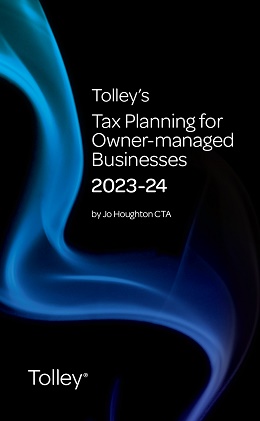 Tolley's Tax Planning for Owner-Managed Businesses 2019-20
This content is unique to LexisNexis
Commentary
In the current climate, businesses are expecting their advisers to help them make more savings through careful tax planning than ever before. This title enables you to give real-life solutions and guidance on problems faced in every stage of the lifecycle of an owner-managed business.

All the key issues are covered in a clear and precise manner, including interaction of different taxes and the Finance Act 2019, to ensure there is a thorough analysis of planning opportunities in each transaction or event.

Written by leading practitioners in the field, this practical title uses worked examples and case studies to explain tax liabilities, compliance and planning opportunities available for tax mitigation and as such is essential reading for anyone handling the affairs of owner-managed businesses.

SOURCE CURRENCY

2019-20 Thirteenth edition

Update Information

Now in its Thirteenth edition, this title enables you to give expert direct tax guidance on every stage of the life-cycle of an owner-managed business – from its formation through to succession planning. All of the key issues are covered and also the interaction of different taxes in what is frequently a diverse and complicated area of tax planning. This edition covers the provisions of Finance Act 2019.

Tolley's Tax Planning Series is a series of highly practical titles written specifically for the tax practitioner, offering real-life solutions to everyday business problems.