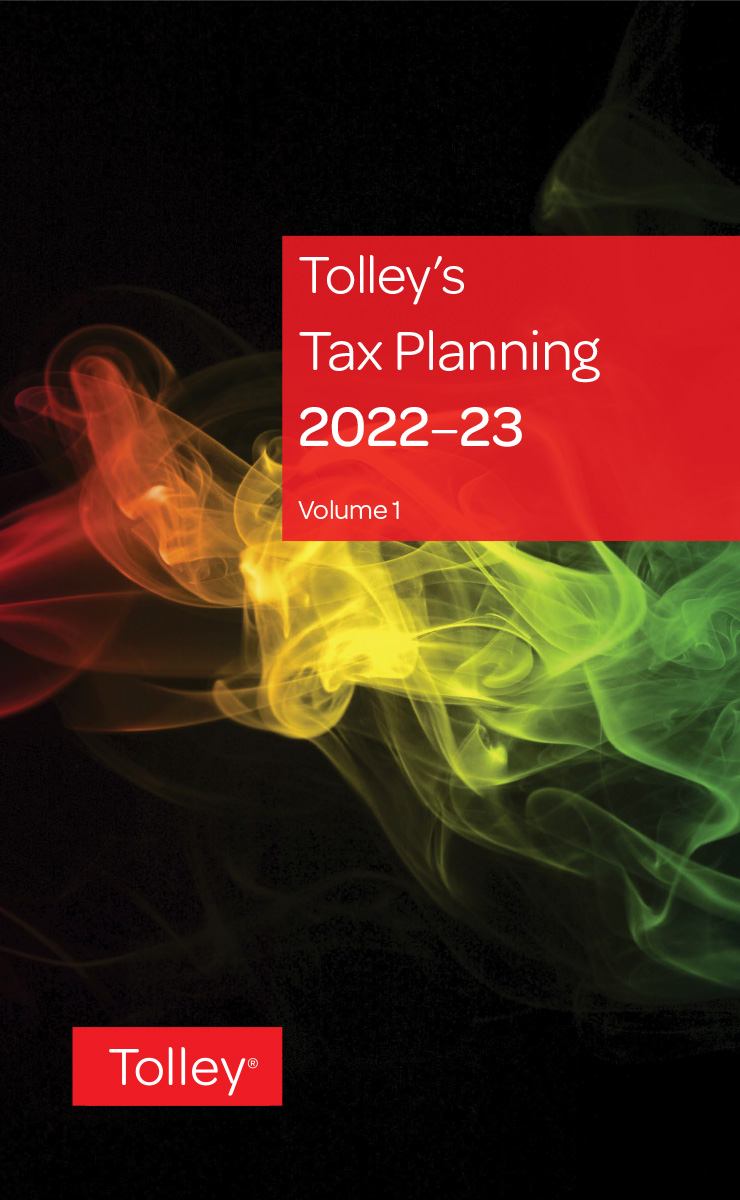 Tolley's Tax Planning
This content is unique to LexisNexis
Commentary
This source details in a clear and concise format the practical taxation strategies used across the whole range of financial decision-making criteria required by individuals, partnerships and corporate bodies.

It is written by practising experts in straightforward language, with clear explanations and practical solutions and provides an invaluable source of ideas on keeping tax payments to a minimum.

Additional Information:

SOURCE CURRENCY
2019/20 Edition

UPDATE INFORMATION

Tolley's Tax Planning 2019-20, comprising 69 chapters, brings together a wide range of experienced authors with many years of practical tax planning experience, and each a specialist in their field. Full of information and practical advice, it provides a comprehensive and clear guide through the many and varied areas of tax planning.

The increasing complexity of the primary legislation, the volume of secondary legislation and the rate of change continue apace, making the task of tax planning with any certainty ever more difficult, and the role of the tax planner ever more challenging. We hope that Tolley's Tax Planning, with its emphasis on clear explanations and practical solutions, its many examples of practical taxation strategies and detailed contents arranged in a convenient alphabetical format will make the tax planner's role a little easier.

Tolley's Tax Planning is published annually to ensure that you are kept up-to-date and fully aware of the latest tax planning opportunities. This edition takes account of the changes in the law made by Finance Act 2019 and other recent legislation, and of case law, practice statements, etc.
Contributors
| | |
| --- | --- |
| Alec Ure | Contributor |
| Alexander Cox , (Ashurst LLP) | Contributor |
| Andrew Hubbard, BMus, PhD, CTA | Contributor |
| Anne Fairpo | Contributor |
| Ben Regan ,  MA PhD (Ernst & Young LLP), with acknowledgements to Chris Adams and Richard Coombes | Contributor |
| Bradley Phillips | Contributor |
| C E V Goddard ,  MA (Oxon) Solicitor | Contributor |
| Cathy Corns , (Corporate and Business Tax, Mercer & Hole) | Contributor |
| Charles Goddard | Contributor |
| David A Heaton ,  BA FCA CTA (from Baker Tilly's Employer Consulting Group) | Contributor |
| David Kilshaw | Contributor |
| David Mansell , (Corporate and Business Tax, Mercer & Hole) | Contributor |
| David R Harris ,  LLM (Barrister) | Contributor |
| David Smailes ,  FCA | Contributor |
| Donald Pearce-Crump BA (Hons) LLB CTA (Fellow) ATT | Contributor |
| Erika Jupe , LLB (Hons) Solicitor (Osborne Clarke) | Contributor |
| G Hardy , MA PhD (Partner, Ernst & Young LLP) | Contributor |
| Gavin Little Mchem , CA (KPMG) | Contributor |
| Gillian Everall ,  BA CTA TEP (Frank Hirth plc) | Contributor |
| Helen Edwards , BA (Hons) FCCA CTA (KPMG LLP) | Contributor |
| Helen Lethaby ,  Solicitor (Freshfields Bruckhaus Deringer LLP) | Contributor |
| Howard Murray , (Tax Group, Herbert Smith Freehills LLP) (with Antonia Kirkby, Corporate Group, Herbert Smith Freehills LLP) | Contributor |
| Iain Forshaw ,  BA CTA (Frank Hirth plc) | Contributor |
| James Kessler , QC | Contributor |
| Jamie Crawford , Solicitor (Speechly Bircham LLP) | Contributor |
| Janet Paterson ,  (Charter Tax Consulting Ltd) | Contributor |
| John Endacott | Contributor |
| John Lindsay ,  BA FCA FTII (Linklaters) | Contributor |
| Jonathan Parry , (Ashurst LLP) | Contributor |
| Juliana M Watterston , MSc CTA (Fellow) FCA (Watterston & Co) | Contributor |
| Juliet Halfhead , Partner (Deloitte) | Contributor |
| Kiran Khetia ,  MA (Oxon), Of Counsel (Hogan Lovells) | Contributor |
| Lesley Fidler , MA (Oxon) MSc CTA MCIPD (Employer Consulting Group, Baker Tilly Tax & Advisory Services LLP) | Contributor |
| Louise L Whitewright ,  MA (Oxon), Partner | Contributor |
| M K R Dyer , ACA MAAT (Reeves & Co LLP) | Contributor |
| Malcolm Gunn CTA | Contributor |
| Mark Cripps ,  BA CTA (Chartered Tax Adviser) | Contributor |
| Mark Davies ,  BA (Hons) CTA | Contributor |
| Martin Wilson | Contributor |
| Mike Bacon ,  BSc (Econ) ACA ATII | Contributor |
| Nicholas Shore ,  BA FCA(Frank Hirth plc) | Contributor |
| Nick Stevenson ,  FCA BSc (Hons) (Healthcare Services Partner, Moore and Smalley) | Contributor |
| P Davison ,  MA Solicitor (Freshfields Bruckhaus Deringer), with acknowledgement to P Clements (also a solicitor with Freshfields Bruckhaus Deringer) | Contributor |
| Paul Bowes , BSc (Hons) FCA ATII | Contributor |
| Paul Harden ,  ACA CTA (KPMG) | Contributor |
| Peter Rayney ,  FCA CTA (Fellow) TEP (Peter Rayney Tax Consulting Ltd) | Contributor |
| Philip Rutherford | Contributor |
| Richard Stratton ,  MA LLM ATII (Travers Smith) | Contributor |
| Robert Maas | Contributor |
| S R Yates ,  BA Solicitor (Travers Smith) | Contributor |
| Sara-Jane Tovey ,  CTA, Solicitor (PricewaterhouseCoopers LLP) | Contributor |
| Sarah Deeks LLB FCA | Contributor |
| Stephen V Woodhouse , LLB, Partner (Deloitte) | Contributor |
| Steven Bone , BSc (Hons) PGDip BA FRICS ATT | Contributor |
| Stewart Norman | Contributor |
| Stuart Chalcraft , (Ernst & Young LLP) | Contributor |
| Suzanne Tilstone ,  (Director Fiscal Valuation Group, Deloitte) | Contributor |
| T J Good , BA (Oxon) ACA (The Professional Training Partnership) | Contributor |
| Victoria Goode ,  LLB Solicitor (Lewis Silkin LLP) | Contributor |
| William Arrenberg | Contributor |