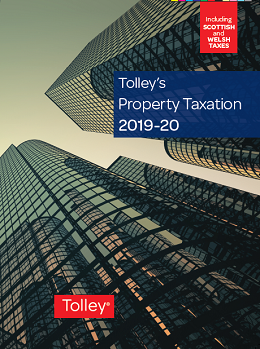 Tolley's Property Taxation 2019–20
Commentary
Tolley's Property Taxation 2019–20

Tolley's Property Taxation 2019-20 is your essential reference book on Property Taxation in the UK. Covering all relevant taxes and, critically, how these taxes can interact, it provides authoritative answers to all your queries, and solutions to your problems, in a single volume.

Detailed chapters include all the common (and some less common) situations for the practitioner and their client, covering everything from REITs and other fund vehicles, Islamic funding structures to capital allowances and rental investments. Every tax applicable to property transactions and occupations and occupation is looked at in detail, from Inheritance Tax, Capital Gains Tax, Stamp Duty Land Tax, and Value Added Tax to Corporation Tax, Income Tax, Business Rates and the Annual Tax on Enveloped Dwellings. This edition contains a new chapter on Welsh land transaction tax (LIT). Technical issues are illustrated throughout by examples and, where relevant, detailed commentary on applicable case law and precedents support in-depth research.

Featuring authoritative planning advise from leading property tax specialists in their different fields, Tolley's Property Taxation 2019-20 is written to assist the novice and expert alike, in whatever line of business, where UK property is an issue.