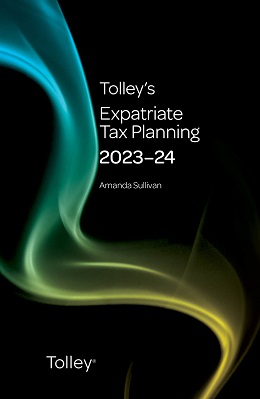 Tolley's Expatriate Tax Planning 2020-21
This content is unique to LexisNexis
Commentary
The book provides guidance to UK tax practitioners on the issues facing both employers and their employees working, or planning to work, overseas. The title also deals with foreign nationals working in the U.K.

The aim of the work is to cover the income tax & social security position of expatriate employees' earnings and the related obligations of the employer.

Hence the market for the work is accountants, HR and lawyers in multi-national companies, accountancy firms of all sizes and businesses sending employees to work abroad/hiring employees from abroad.

This book aims to guide the reader through the detailed implications of all of these issues when planning the arrangements for an expatriate employment.

UPDATE INFORMATION

This year's edition includes:

· The UK left the EU on 31 January 2020 and entered a transitional period due to end on 31 December 2020 . Expatriates working cross border and their employers cannot rely on EU legislation in future so the replacement UK rules and bilateral agreements must be reflected in alternative arrangements for international employments. This edition covers the most recent information on the issues affecting global expatriate employments, in particular international information exchange agreements, employer compliance, employee pensions, double taxation, social security agreement coverage and healthcare entitlement.

· HMRC guidance on the 2020 Coronavirus rules for expatriate employees is covered, including UK residence, international work periods affected by travel restrictions and UK employer Coronavirus Job Retention Scheme grants for furloughed employees.


· HMRC guidance on the practical operation of the post-April 2018 income tax and NICs rules for payments on employment termination, in particular the position of non-residents and foreign expatriates during the 2020 COVID-19 pandemic.


· 2020-21 updated Appendices: the basis of assessment of earnings, the remittance basis charge, and the 183-day employment rule in recent double taxation treaties.

Contributors
| | |
| --- | --- |
| Amanda Sullivan BA CTA (Fellow) TEP | Author |