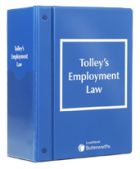 Tolley's Employment Law Service
This content is unique to LexisNexis
Commentary
Tolley's Employment Law Service provides comprehensive guidance and analysis in an accessible form. No other work can provide you with such complete guidance in a single volume. It provides immediate access to the latest legislation and judicial developments, and specialist advice and guidance on a whole range of topics from 'absence' to 'wrongful dismissal'.

The quality of commentary and analysis is assured by an expert author panel of experienced legal professionals, who have complete command of their subject and are able to answer the questions you are most likely to ask.

Tolley's Employment Law Service has been designed for those professionals who do not have the time to wade through volumes of material hunting for a specific point.

SOURCE CURRENCY
Issue 149, May 2020

UPDATE INFORMATION

The following chapters have been updated:

Employment Tribunals: Practice and Procedure
Health and Safety at Work
Human Rights in the Workplace
Part-time Employment
Redundancy
Taxation of Employment Income and Benefits
Transfer of Undertakings
Wages I Deductions from Pay

An updated set of tables are included in this issue.