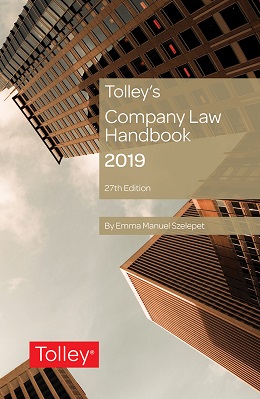 Tolley's Company Law Handbook
This content is unique to LexisNexis
Commentary
Tolley's Company Law Handbook concise and comprehensive guide to the Companies Acts, supporting legislation and case law, providing an invaluable first point of reference for those requiring a clear understanding of the law relating to company administration. This handbook also provides essential practical details such as lists of up-to-date fees and useful telephone numbers, which are often overlooked by other publications. This all inclusive work covers every aspect of company law using concise and non-technical language and an A-Z format for ease of reference.

SOURCE CURRENCY

27th Edition, October 2019

UPDATE INFORMATION

Tolley's Company Law Handbook is intended to be a first book of reference for accountants, solicitors, company secretaries and all those involved in company law.

The twenty seventh edition includes full coverage of the Companies Act 2006 (CA 2006). The Act extends to the whole of the UK, so that there is no separate regime for Northern Ireland.

This edition covers, in alphabetical order, the relevant topics of CA 2006.

Among tax law developments and other changes, this edition includes:


further refinement of the scope of directors' duties, notably of the impact of s 172 in insolvency;
ongoing developments of the duty of disclosure;
introduction of the Insolvency and Companies Court Judges;
the continuing roll out of the new Prospectus Regulation.