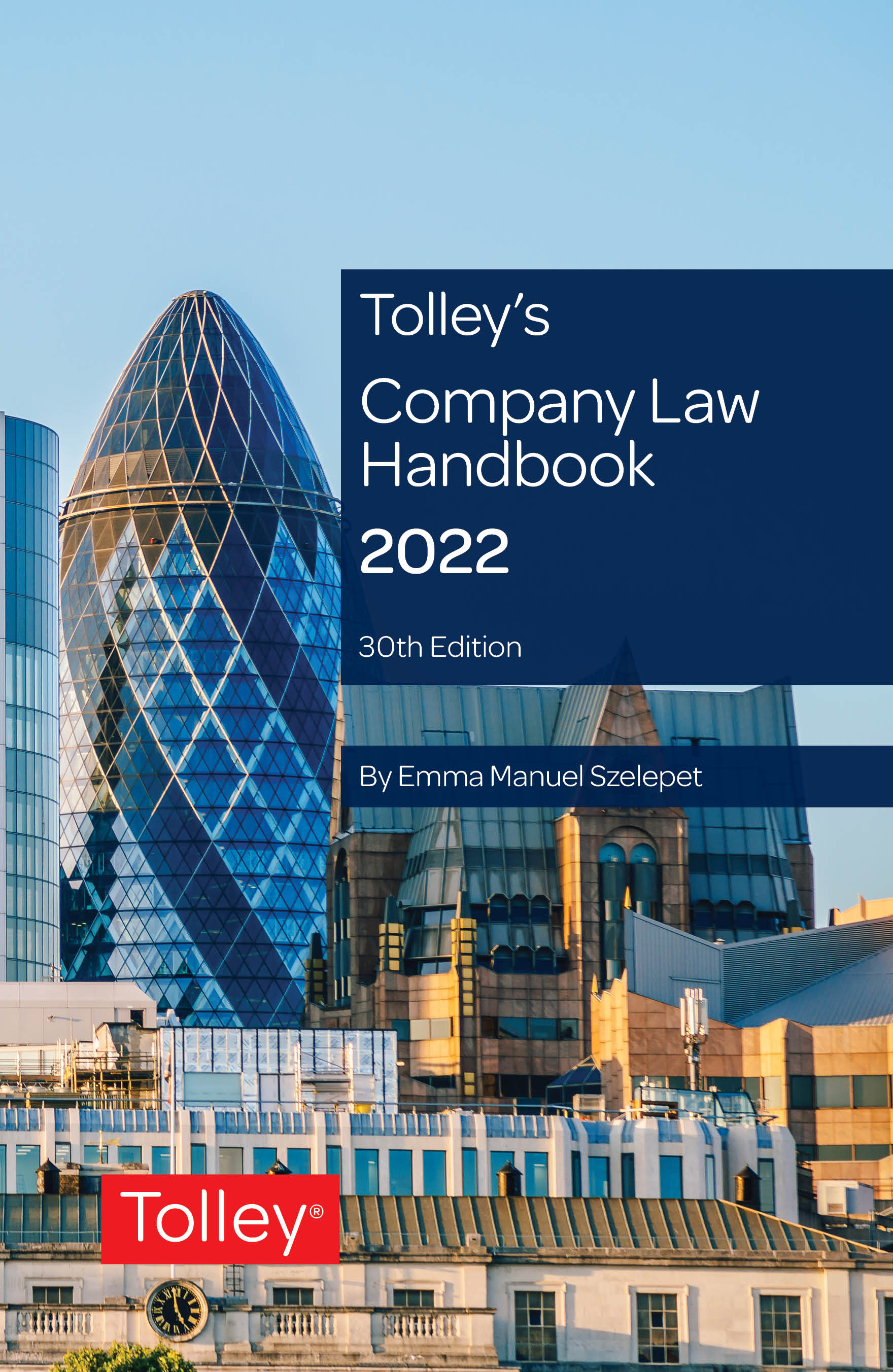 Tolley's Company Law Handbook
This content is unique to LexisNexis
Commentary
Tolley's Company Law Handbook concise and comprehensive guide to the Companies Acts, supporting legislation and case law, providing an invaluable first point of reference for those requiring a clear understanding of the law relating to company administration. This handbook also provides essential practical details such as lists of up-to-date fees and useful telephone numbers, which are often overlooked by other publications. This all inclusive work covers every aspect of company law using concise and non-technical language and an A-Z format for ease of reference.
SOURCE CURRENCY
30th Edition, November 2022
UPDATE INFORMATION
Tolley's Company Law Handbook is intended to be a first book of reference for accountants, solicitors, company secretaries and all those involved in company law.
The thirtieth edition includes full coverage of the Companies Act 2006 (CA 2006). The Act extends to the whole of the UK, so that there is no separate regime for Northern Ireland.
This edition covers, in alphabetical order, the relevant topics of CA 2006.
Among tax law development and other changes, this edition includes:
the implications of the Economic Crime (Transparency and Enforcement) Act 2022 on registration of overseas entities, and on the role and powers of the Registrar of Companies;

Rushbrooke UK Ltd v 4 Designs Concept Ltd [2022] EWHC 1110 (Ch) on the issue of whether one out of the two directors of a company had authority on the company's behalf to instruct lawyers to commence proceedings;

Barclay-Watt v Alpha Panareti Public Ltd [2022] EWCA Civ 1169 on whether, in relation to a company's negligent conduct, one of two directors was also liable as a joint tortfeasor with the company;

Cardiff City Football Club (Holdings) Ltd, Re [2022] EWHC 2023 (Ch) on whether the manner in which a debt equity swap had been implemented, by way of an open offer of new shares that diluted the holdings of those who did not accept, amounted to unfair prejudice under CA 2006, s 994;

Hashmi v Lorimer-Wing [2022] EWHC 191 (Ch) on the proper interpretation of Arts 7 and 11 of the Model Articles for private companies;

McGaughey v Universities Superannuation Scheme Ltd [2022] EWHC 1233 (Ch) on an application by two pension scheme members for permission to continue several multiple derivative claims against directors and former directors of the scheme's corporate trustee, a company limited by guarantee;

Faulkner v Vollin Holdings Ltd [2021] EWHC 787 (Ch) (appeal outstanding) on the mandatory obligation to have regard to all the listed factors imposed on directors by the duty to promote the success of the company under CA 2006, 72;

Richards and anor v Speechly Bircham LLP and anor [2022] EWHC 935 (Comm) in the London Circuit Commercial Court involving professional negligence proceedings against solicitors arising from transactional advice on a private equity-backed share purchase;

Asher v Jaywing plc [2022] EWHC 893 (Ch) involving a breach of the terms of a share purchase agreement;

the recent Supreme Court decision in BTI 2014 LLC v Sequana SA [2022] UKSC 25, on the nature of the 'creditor duty' for the purposes of CA 2006, s 172;

Hamilton v Her Majesty's Attorney-General and ors [2022] EWHC 2132 (Ch), where the High Court confirmed legal title to freehold property is not extinguished by the dissolution of a foreign trustee;

the change to the financial limit for companies seeking to float; and

a reduction in the level of shares which must be in public hands.