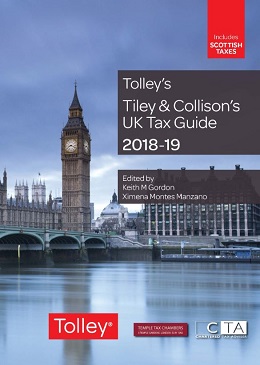 Tiley and Collison's UK Tax Guide 2018-19
This content is unique to LexisNexis
Commentary
Currency
2018-19 edition
Tiley & Collison's UK Tax Guide 2018-19 considers the principal taxes, including VAT, National Insurance contributions and stamp taxes, explaining the policy behind statutory provisions. Case law is thoroughly analysed, and the Guide includes a comprehensive index. The Guide serves as a self-contained textbook and as a pointer to further information in LexisNexis looseleaf publications, to which there are extensive cross references. Subjects of particular interest in this year's title include:
- Finance Act 2018 changes,
- Recent key cases from the First-tier Tribunal, the Upper Tribunal and the higher Courts,
- New commentary on disguised remuneration including the 2019 loan charge, the introduction of deemed domicile for income tax and capital gains tax, the indexation allowance freeze for corporation tax, the extension of deemed domicile for inheritance tax,
- A brand new chapter covering Welsh Land Transaction Tax,
- Reference to the substantial new legislation in the anti-avoidance provisions relating to the transfer of assets abroad (F(No 2)A 2017, and from 6 April 2018 by FA 2018).
Contributors
| | |
| --- | --- |
| Lisa-Jane Dupernex (MA) (Cantab), Solicitor, Private Client, Russell Speechleys | Special contributors |
| Harriet Brown Barrister and Jersey Advocate - Tax Chambers, 15 Old Square | Special contributors |
| Anne Fairpo MA (Oxon), CTA Fellow, Solicitor - Atlas Chambers | Special contributors |
| Susan Ball Employment Tax Partner - Crowe Clark Whitehill LLP | Special contributors |
| John Baldry Barrister, Temple Tax Chambers | Special contributors |
| Hugh Mitchell ACA CTA - High Pth VAT Consultancy | Special contributors |
| John Hayward Pensions Author | Special contributors |
| Philip Rutherford Senior Tax Director - Molson Coors Europe | Special contributors |
| Mark Spalding Client Tax Manager - Crowe Clark Whitehill LLP | Special contributors |
| Ximena Montes Manzano BSc - Barrister, Temple Tax Chambers | Author |
| John Tiley MA, BCL - Professor of the Law of Taxation, University of Cambridge, Fellow of Queen's College Cambridge, Barrister | Author |
| Patrick Cannon CTA, LLB, BCL, Barrister | Special contributors |
| Andrey Krahmal JD (Harvard) LLM (NYU), Barrister | Special contributors |
| Keith M Gordon MA ((Oxon), FCA (Fellow) - Barrister, Temple Tax Chambers | Author |