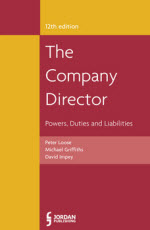 The Company Director: Powers, Duties and Liabilities
This content is unique to LexisNexis
Commentary
The Company Director: Powers, Duties and Liabilities provides comprehensive coverage, in a single volume, of the powers, legal obligations and responsibilities of executive and non-executive company directors. The complex relationships of directors with fellow directors, the company, its employees and shareholders are fully explained.
Now in its 12th edition, this well-respected and established work has been updated to include:
A chapter on recently revised rules relating to corporate security especially the provisions governing constructive knowledge and priorities
Coverage of the new mechanism of making complaints to the Company Names Adjudicator. This new procedure is considered in some detail
Coverage of the latest changes to the company share buy-back regime
Discussion of the anticipated provisions of the Small Business, Enterprise and Employment Bill, including abolition of corporate directors, directors' extended liabilities to disqualification and on insolvency, a new 'consent to act' regime and the new register of Persons with Significant Control
Case-law including Prest v Petrodel Resources, VTB Capital, Chandler v Cape plc, British Bank of the Middle East v Sun Life Association of Canada, ING Re (UK) Ltd v Versicherung AG, Wrexham AFC v Crucialmove Ltd
This book is essential reading for solicitors, barristers, company secretaries, corporate counsel and accountants.