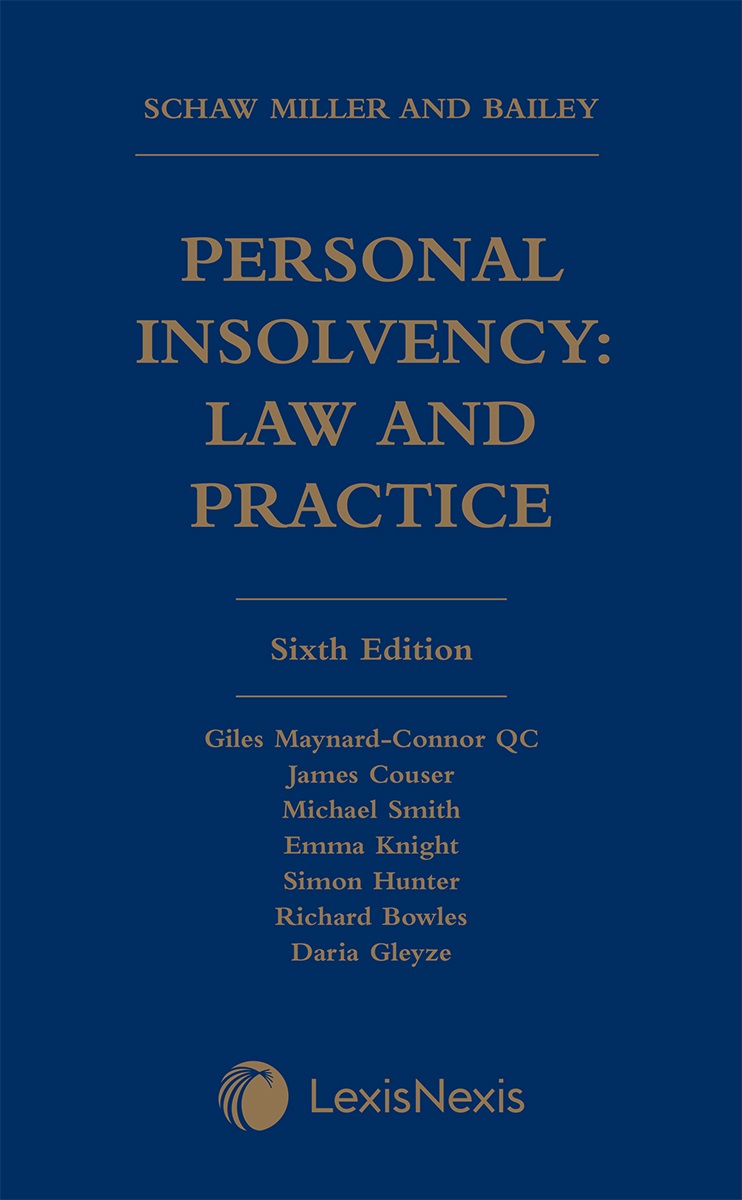 Schaw Miller and Bailey: Personal Insolvency Law and Practice
This content is unique to LexisNexis
Commentary
SOURCE CURRENCY

Sixth Edition. Published May 2022

Schaw Miller and Bailey Personal Insolvency Law and Practice offers a full treatment of the law and procedure of bankruptcy and individual voluntary arrangements under the Insolvency Act 1986. It contains procedural checklists, relevant forms, Insolvency Rules and associated legislation as well as full commentary on the effect of bankruptcy on other areas of the law.

The new edition covers a number of important legislative and regulatory changes in the insolvency landscape. Among these, the most important are:




the widespread changes caused by Brexit (the subject of a whole new chapter)


the new Breathing Space and Mental Health Crisis Moratorium;


the return of Crown preference debts;


the recast Practice Direction in Insolvency Proceedings; and


extensive updates to relevant case law.


Excerpt from the Foreword to the 6th Edition by Lord Justice Snowden:

"Recent shocks to the economy, including most recently the pandemic and conflict in Europe, mean that there is unlikely to be any fall in the numbers seeking to resolve their personal financial problems by formal means over the next few years. The arrival of the Sixth Edition of Schaw, Miller and Bailey is therefore most welcome. As with the earlier editions, it brings a clear and comprehensive analysis of the relevant statutory framework and case law in a readily accessible format. It will be an invaluable reference and guide to all lawyers and insolvency practitioners seeking to navigate this increasingly important area of law and practice."

Contributors
Sixth Edition fully updated by a team of barristers at Three Stone: Giles Maynard-Connor QC, James Couser, Michael Smith, Emma Knight, Simon Hunter, Richard Bowles and Daria Gleyze.