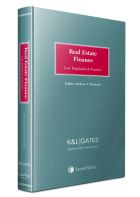 Real Estate Finance: Law, Regulation & Practice
Commentary
A comprehensive and practical guide covering all the key topics relating to the financing of and investing in real estate for lawyers advising originators, arrangers, issuers, banks, lenders, investors and financial service providers. It covers the practical details needed by lawyers to ensure they provide clients with the best advice both on strategy and the 'nuts and bolts' of a real estate finance deal. This new title is a real practitioner's work with comprehensive coverage of legal and structuring issues, including interesting new developments and technology as well as considering the legal and regulatory environment currently facing the global real estate structured finance and investment market.

* Provides practitioners with the expert guidance that they need to deal with complex legal and tax issues requiring innovative solutions to meet client needs
* A comprehensive account of the key structural and legal issues in real estate finance and investment
* Guides practitioners in the setting up of new transactions and administration of existing transactions
* Provides advice on how to maximise the value of transactions -- for example by helping to choose the ideal vehicle for the transaction, or identifying the best way to structure the deal to make the most of the tax advantages
* Includes tools such as key agreements and a glossary of terms to help practitioners put theory into practice
* Includes key practical content such as precedents and bank security documents
* Written by experts at a leading international and City of London law firm, as well as servicers, industry specialists, rating agencies, investment banks, consultants and members of the major trade organisations to provide real insight into current law and practice

Key areas covered include:

CDOs/CLOs; CMBS; ABS/MBS; REITS; Off-shore Unit Trusts/Funds; Private Equity Real Estate Funds; Islamic Finance; Sale Leasebacks -- OPCO PROPCO Structures; Commercial Property Derivatives; High Yield Investments; The Ratings Process; Title Insurance; Tax Planning; The Regulatory Regime; Insolvency and the Enforcement of Security; Further Developments and Emerging Markets; Precedents.

SOURCE CURRENCY
10/2014

DISCLAIMER
This work is intended to be a general guide to the law and cannot be a substitute for legal advice. Neither the authors, their employers nor the publisher accept any responsibility for loss occasioned to any person acting or refraining from acting as a result of material contained in this publication. The beliefs or views expressed by an author in this publication are not necessarily the beliefs or views of any organisation in which the author is employed.
Contributors
| | |
| --- | --- |
| Alan de Saram , Partner, Charles Adams Ritchie & Duckworth | Contributor |
| Alexander Nadmitov , Partner, Tuktarov & Partners | Contributor |
| Alexander Nadmitov , Partner, Avakian, Tuktarov & Partners | Contributor |
| Andrew Baum , Chairman, Property Funds Research and Professor of Land Management, Henley Business School, University of Reading | Contributor |
| Andrew V Petersen , Partner, K&L Gates | General editor |
| Andrew V Petersen , Partner and Duncan Batty, Assistant, K&L Gates London | Contributor |
| Anthony R G Nolan , Partner, K&L Gates New York | Contributor |
| Antonio Celso Pugliese , Partner, Velloso, Pugliese & Guidoni Advogados | Contributor |
| Antonio Velloso Carneiro , Partner, Velloso, Pugliese & Guidoni Advogados | Contributor |
| Bill Maxted , Department of Corporate Development, Faculty of Business and Law, De Montfort University | Contributor |
| Brian Chrystal , Principal, Brian Chrystal Consulting and former Underwriting Director of First Title Insurance plc | Contributor |
| Bruce M Boyd , Partner, Holme Roberts & Owen San Francisco | Contributor |
| Candace Cape Cavalier , Esq, Associate, K&L Gates Boston | Contributor |
| Darren Davey Associate, Commercial Real Estate, Deutsche Bank | Contributor |
| Dave Butler , Head of External Affairs, Reita | Contributor |
| David Love , Finance Director, ING Real Estate Investment Management | Contributor |
| David Tang , Partner, K&L Gates Seattle | Contributor |
| Dena M Cruz , Senior Counsel, Holme Roberts & Owen San Francisco | Contributor |
| Dmitry Sobolev , Associate, Avakian, Tuktarov & Partners | Contributor |
| Dmitry Sobolev , Associate, Avakian, Tuktarov & Partners | Contributor |
| Dudley Holme-Turner , Director, DTZ Debenham Tie Leung | Contributor |
| Edward Smith , Partner, K&L Gates London | Contributor |
| Elena Dilara , Associate Director, Real Estate Finance, Prudential M&G | Contributor |
| Elizabeth Shell , Partner, K&L Gates London | Contributor |
| Gordon F Peery , Counsel, K&L Gates Boston | Contributor |
| James A Spencer , Associate, K&L Gates London | Contributor |
| James Bannister , (MRICS), Vice President, Commercial Real Estate, Deutsche Bank | Contributor |
| James C Walton , Director, South 40 Group | Contributor |
| Jasmine Chi Ping Ng , Counsel, K&L Gates Hong Kong | Contributor |
| Joel S Peck , Senior Vice President, LandAmerica International Services | Contributor |
| Josefina F McEvoy , Partner, K&L Gates Los Angeles | Contributor |
| Kay Gordon , Partner, K&L Gates New York | Contributor |
| Kazuyuki Wakasa , Associate, Nishimura & Asahi | Contributor |
| Kevin J Greene , Partner, K&L Gates London | Contributor |
| Konstantinos Dilaras , Consultant, Market Research & Development, J&P Development | Contributor |
| Marco Angheben , Director, European Securitisation Forum | Contributor |
| Marcus Stone , Partner and Hannes Botha, Associate, Ozannes Jersey | Contributor |
| Nicola Westbrooke , Director, KPMG LLP, London | Contributor |
| Norio Maeda , Partner, Nishimura & Asahi | Contributor |
| Oliver Gutman , Partner, K&L Gates London | Contributor |
| Paul Christopher , Partner, Ozannes Guernsey | Contributor |
| Paul Christopher , Partner, Ozannes Guernsey | Contributor |
| Paul Lloyd , Director, Commercial Real Estate, Deutsche Bank | Contributor |
| Paul M Guest , Head of EMEA Research, Jones Lang LaSalle | Contributor |
| Peter Davis , Partner, K&L Gates London | Contributor |
| Phillip J Kardis II , Partner, K&L Gates Washington DC | Contributor |
| Sakate Khaitan , Partner and H Lakshmi Priya, Senior Associate, ALMT Legal London | Contributor |
| Scott R Bernhart , Partner, K&L Gates Fort Worth | Contributor |
| Shannon J Skinner , Partner, K&L Gates Seattle | Contributor |
| Steve Willingham , Managing Director of Global Principal Investments, Merrill Lynch International | Contributor |
| Steven J Adelkoff , Partner, K&L Gates New York | Contributor |
| Tomohiro Kandori , Associates, Nishimura & Asahi | Contributor |
| Yury Tuktarov , Partner, Avakian, Tuktarov & Partners | Contributor |