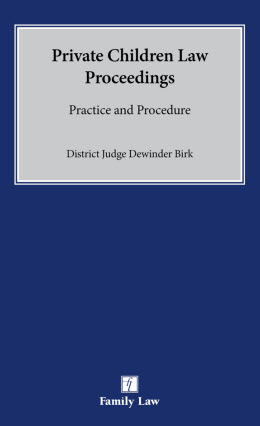 Private Children Law Proceedings: Practice & Procedure
Commentary
District Judge Dewinder Birk

Currency: 1st Edition, September 2023

Private Children Law Proceedings: Practice and Procedure provides an updated overview of the current working practices and procedures based on the 'Child Arrangements Programme' ('CAP') (PD12B). After setting down the foundations of the law in this area, the challenges that private children law proceedings face are examined with clear insights as to the future development of the law and practice.

The remit of private children law has expanded to incorporate a variety of other areas and issues, all of which require practitioners to have more than a passing understanding in order to represent and present the best possible case for their clients. Accordingly, this new title provides a clear examination of the most topical, including cases involving forced marriages, FGM, domestic abuse, the concepts of 'implacable hostility' and 'parental alienation' and the interplay between the family courts and the immigration courts. With the increase of litigants in person, there is also a greater need to know how to deal most effectively with the issues of participation and vulnerable persons under PD3A.

Private Children Law Proceedings: Practice and Procedure delivers an authoritative commentary which highlights areas of potential difficulty and provides practical solutions on how to manage cases most effectively. It is essential reading for the family law judiciary, solicitors and counsel, both newly qualified and established, academics, Cafcass officers and anyone who finds themselves involved in private family law proceedings.