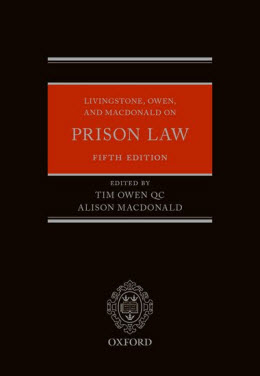 SOURCE CURRENCY
5th Edition, August 2015

Prison Law is the leading text in its field. It offers comprehensive coverage of the substantive law, the Prison Rules, and the remedies available to prisoners, including complaints procedures, civil claims, judicial review, and claims under the Human Rights Act. Both domestic and international avenues of redress are explained in detail. The book covers all aspects of prison life, from categorization and allocation to living conditions, access to the outside world, transfer and repatriation, discipline, and the procedures governing the release of fixed term prisoners and those serving life sentences.

In recent years, restricted access to legal aid and the ongoing threat to the Human Rights Act have made it increasingly difficult for prisoners to exercise their rights. It would now be impossible for prison law to play the same major role in developing constitutional and public law as it has for the past 30 years. As a result, prison law practitioners are having to adapt and evolve their approach to cope with new challenges.

The new edition has been completely revised and updated to take account of relevant decisions under the Human Rights Act and at the European Court of Human Rights, including important decisions on IPP sentences, ministerial involvement in prison release, conditions of detention, and their policy ramifications in the UK. The changes to the life sentence regime and the prison disciplinary system, implemented since publication of the previous edition, have been fully addressed. It also covers the Equality Act and its application in the prison context. Further, it includes a new introduction summarizing the development of prison law over the 20 years since the first edition, and its importance in the wider context of public law principles especially the expansion of jurisdiction (St Germain, Leech and Hague), fairness (Duggan, Doody), the principle of legality (Raymond v Honey, Leech No 2, Pierson, Simms and O'Brien) and HRA review (Daly and subsequent HRA decisions).

Critical analysis is combined with practical guidance to make Prison Law immensely useful to practitioners, academics, and anyone with a professional interest in crime and punishment.