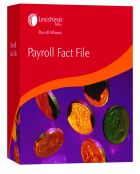 Payroll Fact File
This content is unique to LexisNexis
Materials
Payroll Fact File provides practical information on every aspect of payroll procedures. It takes a procedural approach to the subject, with many worked examples, checklists and flow charts provided throughout to help you work logically through all your payroll queries.

There are many situations when you need to know the law as it relates to pay and benefits. You may need to assess the implications of an employee using a company car or to calculate the remuneration owing to a pregnant employee. Whatever the query, it is at times like these when you should turn to the hands-on guidance of Payroll Fact File, to ensure you are carrying out the correct procedures and calculations.

* Regular, comprehensive updates
* Checklists, tables and flow charts
* Numerous worked examples

The Payroll Fact File is designed to keep those engaged in payroll and related tasks updated with ever-changing legislation and payroll procedures.

SOURCE CURRENCY

Issue 160, October 2020

As a result of the UK's exit from the EU on 31 January 2020, there may be changes to payroll legislation in due course. The changes will be reflected in the Payroll Fact File where applicable in due course.

Chapter 1

1.20

Easement rules for NI where an employee returns to the UK from abroad due to COVID-19.

1.121

Scotland will be introducing a new type of student loan, plan type 4 from April 2021.

1.159B

Separate rates for Northern Ireland jury service allowance rates have been added plus a link to the website.

1.170

Employers should not delay reclaiming the Employment Allowance because they are reclaiming secondary NI contributions via the CJRS as they would effectively be claiming for the same thing twice.

1.181B

Details of the Job Retention Bonus has been added.

Chapter 2

2.31

Typo corrected on chart where the P45 is out of date 'before 6 April 2029' should read 'before 6 April 2019'.

2.78

Statutory Parental Bereavement Pay (SPBP) has been added to a list of statutory payments an employer should record.


Chapter 3


3.1

Update of Budget information.

3.11

Updated example.

3.24

Updated ISA and child trust fund limits.

3.25

Updated example.

General

General updating by removal of out of date information, dates and references.


Chapter 4


4.26

Details of the Apprentice Upper Secondary threshold have been expanded.

4.38

Employers should not delay claiming the Employment Allowance because they are claiming the employer's contributions on furlough pay through the CJRS. This would mean claiming for the same thing twice and could be construed as fraud.

4.58

Advisory mileage rates from 1 September 2020 have been added.

Appendix 4A

Upper Secondary and Apprentice Upper Secondary Thresholds added.


Chapter 5

5.12

Exemptions related to the coronavirus pandemic.

5.22A

Variation of pre-April 2017 arrangements.


Chapter 5A

5A.1

Living accommodation provided during the coronavirus pandemic.

5A.38

Advisory fuel rates from 1 September 2020 (Figure 5AF).

5A.42

Coca-Cola case – meaning of a 'van'.

5A.46

Reimbursement of cost of computer equipment during the coronavirus pandemic.

5A.53

Reimbursement of equipment during coronavirus pandemic.

5A.47A

Exemption for coronavirus antigen tests.

5A.81A

New section on personal protective equipment (PPE).

5A.82A

Reimbursement of cost of PPE.


Chapter 6

Summary of Key Points

Additional commentary on COVID-19 job continuation grants, sick pay and relaxed income limits for tax-free childcare.

6.13B

New HMRC Residence, Domicile and Remittance Basis Manual guidance on the changes to the Statutory Residence Test rules for non-resident employees working in the UK on COVID-19 and on exceptional UK days in coronavirus situations.

6.45A

The Supreme Court overturned previous Tax Tribunal decisions in Fowler v HMRC [2020] UKSC 22, by finding that an employed diver was in receipt of employment income for double tax treaty purposes, despite being self-employed under the UK domestic legislation.

6.68

The Louis Da Silva [2020] UKFTT 106 (TC) case held that foreign service relief did not apply to the 2013/14 termination payment of an individual who could not demonstrate a status of not ordinarily resident in 2007/08–2009/10.

6.68A, 6.68B & 6.68C

Legislation from 6 April 2021 will ensure that the PENP of a non-resident is treated as earned for the employment duties that would have been performed in the deemed notice period (and will be UK-taxable to the extent that the employee would have worked in the UK if their employment had not been terminated).

6.74

New HMRC examples of allowable scale rate reimbursement of the overseas accommodation and expenses of employees working abroad.

6.103, 6.114, 6.117

HMRC easement of UK domestic Class 1 NICs liability for first six weeks of non-incidental UK duties of employees returning from non-EU/non-reciprocal agreement countries due to COVID-19.

6.129B

Guidance on the benefits and pensions of UK nationals living in the EEA and Switzerland.

6.130A, 6.130B, 6.130C, 6.130D

New Home Office guidance on the UK immigration system from 1 January 2021.

6.130L

Guidance on obtaining an NHS surcharge refund for certain UK-inbound exempt healthcare workers who paid for UK NHS healthcare after 20 May 2020.

6.134B

New immigration guidance on students from the EU, EEA and Switzerland studying in the UK.


Chapter 7

7.12E

The term furlough has been slightly expanded to differentiate between phase 1 and 2 under the CJRS.

7.12J

Details of the Job Retention Bonus scheme have been added. Payment is due from February 2021.

7.12K

The definition of a support bubble has been added and when SSP should be paid if someone in the bubble shows symptoms of COVID-19.

7.24

A note has been added that the manual SSP1 form (and SSP1W Welsh version) was revised in March 2020 but still carries update date 01/19. This information was previously added to 7.56.
Q&A on COVID-19 and SSP has been added.


Chapter 8

8.102
Form SC3 must be completed online at www.gov.uk/government/publications/ordinary-statutory-paternity-pay-and-leave-becoming-a-birth-parent-sc3

8.117

Form SAP1 must be completed online by the employer as the manual form is no longer available.


Chapter 9

9.16

Deleted example of abolished £8,500 threshold, no longer relevant.

9.29

Corrected description of Section E.

9.42

Deleted out of date information on tax-free luncheon vouchers.

9.48

Deleted outdated information.

General

Deletion of other out of date references.


Chapter 10


10.2

Updated technical specifications link.

10.4

Removed paragraph on proposed abolition of Employment Tribunal fees in Scotland as this is no longer relevant

10.11

Inserted additional information on employment of children.

10.14

Inserted additional information on state pension age changes.

10.19

Updated information on primary payroll records to be kept.

10.35

Added P11D penalty not exceeding £3,000.

10.51

Removed out of date information on CIS penalties prior to November 2011.

10.53

Updated information on Employment Protection Award limits from 6 April 2020.

General

Change of tense from future to past tense where changes already made or enacted and removal of outdated and no longer relevant references.

Chapter 11

11.2

HMRC can be paid in a variety of ways and the various options have been added to this section.


Chapter 12

12.42

Furlough scheme and notice periods updated, plus furloughed employees to receive full redundancy payments.

12.129

A tribunal should not order re-engagement where employer asserts breakdown of trust and confidence.


Chapter 13

13.6

Finance Act 2021 will contain legislation for tax-approved collective money purchase pension schemes.

13.13

HMRC Guaranteed Minimum Pension (GMP) equalisation newsletter, July 2020 covered the treatment of Guaranteed Minimum Pension equalisation payments.

13.16B

New HMRC guidance on the retention of a protected pension age (less than age 55) where a pension scheme is transferred to another scheme on the transfer or winding-up of a business.

13.17I

New HMRC guidance on pension guarantees after the scheme member's death.

13.19

New NICs guidance on pension commencement lump sums.

13.58

Updated HMRC guidance on the accounting for, and payment of tax, by pension scheme administrators.

13.58A

Pension schemes newsletters 122 and 123 guidance on the latest features added to the Managing Pension Schemes online service, the planned dates for adding new features to the service. Migration issues where more than one scheme practitioner ID in use. The issue of paper notifications only to first-named scheme administrators.

13.76

Latest HMRC guidance on reporting the tax relief given at source on pension scheme contributions.


Chapter 14

There are no changes to this chapter for this issue.