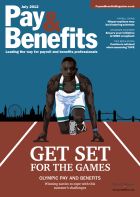 Pay & Benefits (Archive) (formerly Payroll and Human Resources)
This content is unique to LexisNexis
Journal
Pay & Benefits
*Previously titled Payroll & Human Resources and Payroll Manager's Review*
Pay & Benefits provides authoritative and indispensible information for payroll, HR, employee benefits and reward professionals. It covers compliance and operational issues, legislation, software, and key conferences and events.
Regular online news updates and weekly e-newsletters keep readers informed of any developments and the latest trends. Practical case studies and extensive features also help industry professionals see how regulatory changes and up-to-the-minute innovations will affect their organisation, aiding decision-making, planning and implementation. Pay & Benefits understands the concerns and requirements of payroll and benefits/HR departments today and is essential reading for all professionals in this area.
In addition to the magazine's website, which provides daily news coverage and an archive of past issues, Pay & Benefits also holds an annual awards ceremony. The event acknowledges the best individuals, teams and companies in the industry.
All editorial sections of the printed journal are reproduced online.
Print ISSN: 0950-8147
SOURCE CURRENCY
Issue 11, 1 November 2016
Citation: Pay & Benefits, November 2016, 2 (1)
payandbenefitsmagazine.co.uk
payandbenefitsawards.co.uk
To follow Pay & Benefits on Twitter
click here
Join our LinkedIn group:
click here
Contributors
Editor: Kavitha Sivasubramaniam
Assistant Editor: Dawn Lewis