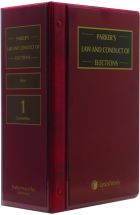 Parker's Law and Conduct of Elections
Commentary
Parker's Law and Conduct of Elections is recognised as the standard work on election law and practice, covering every aspect of parliamentary, European parliamentary and local elections and referendums in England and Wales. Coverage includes parish and community, Welsh Assembly, Greater London and police commissioner elections and referendums.

The 22 chapters of commentary contain detailed discussion of all relevant legislation and case law. Legal requirements and procedures are described in detail. The Appendices reproduce all relevant statutes and statutory instruments in up-to-date form with all amendments clearly annotated. The Appendices also reproduce relevant guidance material and Electoral Commission Circulars.

The service is updated three times per year.

Issue 67, June 2020

Binder 1

Commentary

The following chapters have been updated:



Chapter 1: Elections and Electoral Areas


Chapter 2: Franchise


Chapter 2: Franchise


Chapter 3: Registration of Electors


Chapter 4: The Returning Officer, his Staff and Expenses


Chapter 7: Political parties


Chapter 5: The Candidate


Chapter 6: The Election Agent and his Staff


Chapter 8: Election Expenses


Chapter 15: The Poll

The index has been updated.

Binder 2

Statutes
In Appendix A the following Acts have been amended:


House of Commons Disqualification Act 1975


Representation of the People Act 1983


Representation of the People Act 2000


Political Parties, Elections and Referendums Act 2000


Binder 3

Subordinate Legislation
In Appendix B the following Statutory Instruments have been amended:


Police and Crime Commissioner Elections Order 2012

For subscriptions and filing enquiries, see the customer information which is printed at the end of the filing instructions which follow this page.