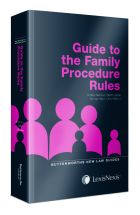 New Law Guide to the Family Procedure Rules
Commentary
The eagerly anticipated Family Procedure Rules 2010 came into force on 6 April 2011 accompanied by numerous practice directions and forms. These new rules replace a myriad of rules for different courts and different types of proceedings. This radical reform to court procedure sets out the procedure to be used in the vast majority of family proceedings in the High Court, county courts and magistrates' courts.

This book provides a comprehensive and detailed guide to the Family Procedure Rules 2010 explaining the implications for family law practitioners. It highlights the difference between the old rules and the new rules; the text includes the rules themselves and the relevant practice directions. It also provides guidance to the few circumstances in which the Civil Procedure Rules apply.

This title is a timely publication on the new Family Procedure Rules 2010 written by expert family practitioners and will be of value to all those working within the family law arena- the courts, professionals in the public sector and private practice and scholars.