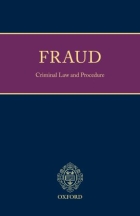 Montgomery and Ormerod on Fraud: Criminal Law and Procedure
Commentary
Source Guide: Release 13: July 2019

Edited by Clare Montgomery QC and David Ormerod
Tony Shaw QC

General editors Clare Montgomery QC and Professor David Ormerod lead an expert author team.

A comprehensive analysis of the investigation and prosecution of fraud offences in England and Wales including coverage of the investigative, pre-trial, procedural and substantive law issues as well as related topics such as corruption and money-laundering.

Detailed narrative and all relevant materials contained in a single portable volume.

Contributors include both leading practitioners in the field and 'insiders' from government agencies including the Serious Fraud Office and the Government Legal Service.

Covers every area of fraud law and practice.

Presented in loose-leaf format and updated once in the first year and twice a year thereafter.

The practical and academic expertise of the Editors offers a unique combination not found in the existing works on fraud and related offences.

Clear and accessibe for the busy practitioners.

Copyright held by Oxford University Press.