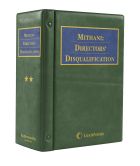 Mithani: Directors' Disqualification
This content is unique to LexisNexis
Commentary
The full text of the unparalleled authority on directors disqualification, Mithani gives you the entire law and procedure relating to the disqualification of company directors, including a full explanation of the complex rules that have developed under the Company Directors Disqualification Act 1986. Also includes Forms and Precedents.

SOURCE CURRENCY
Issue 87, October 2020

UPDATE INFORMATION
The following section has been comprehensively updated:

Division III, Chapter 6 Compromises and settlements
Division IV, Chapter 1 Procedural matters relating to civil disqualification proceedings

Full index has been supplied.

For subscriptions and filing enquiries, please see the customer queries information which is printed at the end of the filing instructions which follows this page.
Once it has been circulated to all users of Mithani: Directors' Disqualification, this page may be filed at the front of Binder 1.
Contributors
| | |
| --- | --- |
| Andrew Westwood MA (Oxon), Barrister, one of the Junior Counsel to the Crown | Advisory editor |
| District Judge Christopher Lethem BA (Hons), Joint Course Director of the Civil Continuation Course for the Judicial Studies Board | Contributor |
| Clive Jones BA (Oxon), Insolvency and Companies Court Judge, Business and Property Courts of England and Wales; and a deputy Judge of the High Court | Contributor |
| Colin Evans Head of IES Technical Team, Investigation and Enforcement Services, Insolvency Service, Department of Business Innovations and Skills, London | Advisory editor |
| Daniel Margolin QC BA (Oxon), Partner at Joseph, Hagh, Aaronson LLP; and formerly a barrister at Maitland Chambers and one of the Junior Counsel to the Crown | Contributor |
| Professor David McClean CBE, QC (Hon), MA, DCL (Oxon), Hon LittD (Sheff), FBA, Bencher of Gray's Inn, Emeritus Professor, University of Sheffield, Membre, Institut de Droit International | Contributor |
| Dr David Capper LLB, LLM (Cantab), PhD, Barrister, Reader in Law, Queen's University Belfast | Contributor |
| David M Thomson QC LLB (Hons), Dip LP, Advocate, Axiom Advocates; and formerly standing Junior Counsel to the Advocate General for Scotland | Contributor |
| Professor David Ormerod QC (Hon) Bencher of Middle Temple, Professor of Criminal Justice, University College, London; Law Commissioner; and a deputy Judge of the High Court | Contributor |
| Davinia Gransbury LLB, Solicitor, Partner of Wragge & Co LLP, Panel Solicitors for the Secretary of State for Business, Innovations and Skills | Advisory editor |
| Donna W McKenzie-Skene LLB (Hons), Dip LP, NP, Lecturer in Law, University of Aberdeen | Advisory editor |
| Elliott Burns Former Chief Examiner, Company Investigations Directorate, Insolvency Service, Department of Business, Innovations and Skills, London | Advisory editor |
| Estelle Dehon LLB (Wits), BCL MPhil (Oxon), Barrister at 4-5 Gray's Inn Square | Contributor |
| Hodge M. Malek QC BCL, MA (Oxon), Recorder and Bencher of Gray's Inn | Contributor |
| The Right Honourable Justice Carr A Lady Justice of Appeal | Contributor |
| The Right Honourable Lord Neuberger of Abbotsbury, Master of the Rolls and Head of Civil Justice | Advisory editor |
| The Right Honourable Sir Robin Jacob Professor of Law, University College, London and former Lord Justice of Appeal | Consultant editor |
| Hussein Mithani LLB (Hons), Associate Solicitor at Herbert Smith Freehills LLP | Contributor |
| James Potts QC, MA (Oxon), MPhil (Cantab), Dip Law, Barrister | Contributor |
| Jeremy Bamford BA (Oxon), Barrister | Contributor |
| Professor Joanna Gray LLB (Hons), LLM, Professor of Financial Regulation, Newcastle University | Advisory editor |
| Dr John Tribe LLB, LLM, PGCE (FHEA), PhD, Senior Lecturer in Law, Liverpool Law School, University of Liverpool | Contributor |
| Dr Jonathan Galloway LLB (Hons), PhD, Attorney-at-Law (New York) Lecturer in Law (Newcastle University) | Contributor |
| Jonathan McGurk FCCA, Head of IES Technical Team, Investigation and Enforcement Services, Insolvency Service, Department of Business, Energy and Industrial Strategy, Plymouth | Contributor |
| His Honour Judge Abbas Mithani QC (Hon), LLM, Circuit Judge, Honorary Professor of Law at Birmingham University and Visiting Professor of Law at Newcastle and Kingston Universities | General editor |
| Julie Carney Senior Lawyer, Legal Services, Insolvency Service, Department of Business, Energy and Industrial Strategy, London | Contributor |
| The Honourable Justice Newey A Judge of the High Court Justice, Chancery Division | Advisory editor |
| The Honourable Justice Picken A Judge of the High Court of Justice, Presiding Judge of the Midland Circuit and a Judge of the Commercial Court and the Technology and Construction Court | Contributor |
| District Judge Michael Anson MA (Cantab), Joint Course Director of the Civil Law Seminars and Deputy District Judge Induction Training for the Judicial College; specialist Insolvency Judge; and member of the Insolvency and Companies User Committee | Contributor |
| Mohammed Qasim LLB (Hons), Solicitor and Partner at Brindley Twist Tafft and James, Solicitors | Advisory editor |
| Morris Peacock LLB (Hons), Partner at Howes Percival LLP, Panel Solicitors for the Secretary of States for Business, Innovations and Skills | Advisory editor |
| Neil Davies BA (Hons), Solicitor and Partner at Neil Davies and Partners, Solicitors | Contributor |
| Peter Grieves-Smith LLB (Hons), Barrister, Principal Crown Advocate, Crown Prosecution Service, West Midlands | Contributor |
| Professor Peter Walton LLB (Hons), PhD, Professor of Insolvency Law, Wolverhampton Law School, University of Wolverhampton | Contributor |
| Philip Capon LLB (Hons), Barrister at East Anglian Chambers, Junior Counsel to the Crown, Deputy District Judge | Contributor |
| Raza Mithani LLB (Hons), Hardwicke Scholar, of Lincolns Inn, Barrister | Contributor |
| Professor Rebecca Parry LLB, Dip LP, LLM, PhD, Lecturer, Nottingham Trent University | Contributor |
| Chief Registrar Baister MA, PhD, Chief Bankruptcy Registrar of the High Court | Advisory editor |
| Richard Ascroft LLB (Hons) (Otago, NZ), BCL (Oxon), Barrister | Contributor |
| Sailesh Mehta LLB (Hons), Barrister, 18 Red Lion Court, Recorder of the Crown Court | Advisory editor |
| Simon Jones Solicitor and Director of Litigation, Competition and Markets Authority | Contributor |
| Dr Stephen Baister MA, PhD, Deputy Insolvency and Companies Court Judge, Business and Property Courts of England and Wales; and formerly Chief Bankruptcy Registrar of the High Court | Contributor |
| Stephen Whitaker MA, BCL, (Oxon), Barrister | Contributor |
| Stuart Isaacs QC Partner at Berwin Leighton Paisner, Solicitors, London and a Deputy Judge of the High Court | Contributor |