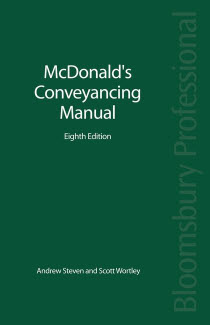 McDonald's Conveyancing Manual
Commentary
SOURCE CURRENCY
7th Edition, June 2004

McDonald's Conveyancing Manual is a well established guide for Scottish practitioners. The new edition of this highly regarded work has been extensively revised and updated. It takes account of major legislative changes, including The Housing (Scotland) Act 2006 and The Planning etc (Scotland) Act 2006 as well as the introduction of Home Reports.

New contents include:
PART I - Preliminary Matters;
PART II - Dispositions;
PART III - Regulation of Landownership;
PART IV - Subordinate Rights;
PART V - Transmission.