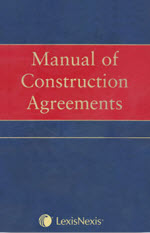 Manual of Construction Agreements
Commentary
Issue 33
November 2020
In this issue we have made update amendments to reflect the latest thinking on good faith in commercial contracts in Bates v Post Office (No 3) [2019] EWHC 606 (QB) where Fraser J held that there was an implied duty of good faith in contracts between the Post Office and sub-postmasters and codified the characteristics of a 'relational contract'. We also look at Samsung C&T Corp v Soon Li Heng Engineering Pte Ltd [2020] SGCA 79 where the Supreme Court of Singapore held that it is unconscionable for a party to make a demand on a performance bond in circumstances where the effect of so doing will be to negate an adjudication determination (AD) prior to any final determination of the dispute between the parties. This is an interesting development and one can expect similar arguments to stop a 'call' on a bond in England.
In terms of litigation procedure we have looked into what happens when so-called 'pre-arbitration'/'pre-litigation' steps are not followed. Peterborough City Council v Enterprise Managed Services Ltd [2014] EWHC 3193 (TCC) concerned an application by the defendant for an order to stay litigation on the ground that the contract required all disputes to be referred to adjudication by a DAB as an express precondition to litigation (based on Sub-Clause 20.8 of the FIDIC General Conditions of Contract for EPC/Turnkey Projects).
In terms of arbitration we have looked at Federal Republic of Nigeria v Process & Industrial Develpments Ltd (No 1) [2020] EWHC 2379 (Comm), where the claimant was granted an extension of time to challenge an arbitration award on grounds that a gas processing contract, the arbitration clause contained in it and arbitration awards based on it had been procured by fraud perpetrated by the respondent company; A v B [2020] EWHC 952 (Comm) where the court delivered a warning to claimants considering the enforcement of an arbitration award that fails to establish a clear 'right to payment'; and PT Ventures SGPS SA v Vidatel Ltd where the BVI Commercial Court ruled that an ICC arbitral award of over US$646 million was enforceable in the BVI given the defendant's failure to establish, on a balance of probabilities, its defences related to the composition of the arbitral tribunal and an alleged lack of impartiality of two of the five arbitrators. The BVI is party to the New York Convention and has therefore adopted a general pro-enforcement approach to Convention awards. Section 86 of the BVI Arbitration Act 2013 provides that the enforcement of a Convention award may not be refused except in the specific circumstances outlined in s 86(2). Section 86 is largely identical in terms to s 103 of the English Arbitration Act 1996.
We have also picked up the Corporate Insolvency and Governance Act 2020, which received Royal Assent on 25 June 2020. The Act has introduced new procedures and measures to seek to rescue companies in financial distress as a result of the COVID-19 pandemic and the resulting economic crisis and represents the most extensive changes in the insolvency landscape since the Enterprise Act came into force in 2003.