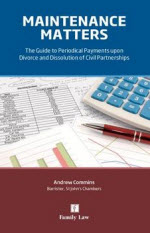 Maintenance Matters: The Guide to Periodical Payments upon Divorce and Dissolution of Civil Partnership
This content is unique to LexisNexis
Commentary
The Guide to Periodical Payments upon Divorce and Dissolution of Civil Partnership

Periodical payments orders occupy that invidious position between, on the one hand, the endemic inequality of wealth so often revealed upon a family's separation and, on the other, the 'clean-break' rhetoric of equality and self-sufficiency.

This new book provides an accessible, readable and practice-orientated guide to the origins, development, calculation and variation of periodical payments orders in financial remedy proceedings (both upon divorce and the dissolution of civil partnerships).

The text considers the procedural, statutory and case-law context in which substantive, nominal, secured and unsecured orders for periodical payments are made, quantified, varied, subjected to capitalisation, terminated and enforced. It provides assistance on dealing with clean-break, [non]-extendable term and pension-related orders and tackles complex and related issues such as the impact of cohabitation, remarriage, bankruptcy and the use of Duxbury calculations.

The Guide provides analysis of, and commentary on, case authorities and, wherever possible, draws together consistent threads of judicial opinion and guidance. Each chapter also provides a summary of the main points of relevant practice and theory to offer a user-friendly manual for any reader interested in, advising on, pursuing or responding to a claim for a periodical payments order at any stage before or after the instigation of legal proceedings.

Maintenance Matters: A Guide to Periodical Payments upon Divorce and Dissolution of Civil Partnership is an invaluable guide for the practitioner at court or in the office. It is essential reading for solicitors, barristers, mediators, accountants and independent financial advisors alike.