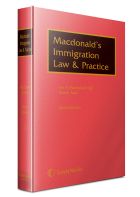 Macdonald's Immigration Law and Practice
This content is unique to LexisNexis
Commentary
Since the publication of the first edition in 1983 Macdonald's Immigration Law & Practice has established itself as the standard textbook in the field and is recognised by the legal profession as the most authoritative text on immigration law.

Written with precision by leading immigration experts the work has been updated to offer all of the latest legislation, cases, political developments and commentary and guidance on every significant aspect of the law and practice of immigration. The sixth edition has been fully revised to include the provisions of the Asylum and Immigration (Treatment of Claimants) Act 2004 and will also include the 2005 immigration appeals procedure rules. This source also contains the latest SIs and the 2004 Immigration Directorate and Asylum Policy Instructions.

SOURCE CURRENCY
9th Edition published February 2015
This online edition has been consolidated to include the new and updated material from the 2nd Supplement to the 9th Edition of the title, which published in September 2018.
Contributors
| | |
| --- | --- |
| Ian Macdonald , QC, Garden Court Chambers | General editor |
| Ronan Toal , Garden Court Chambers | General editor |
| Shu Shin Luh | General editor |