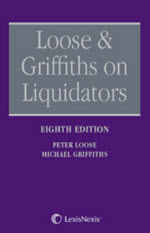 Loose and Griffiths on Liquidators
This content is unique to LexisNexis
Commentary
SOURCE GUIDE: 9th Edition (Up to date to November 2019)

Loose & Griffiths on Liquidators is a guide to the law relating to company liquidations and the important role of the liquidator in a winding up - their powers, duties and relationship to creditors, members, receivers and the court. It provides in a convenient single volume invaluable specialist advice and essential time-saving reference materials.

Now in its ninth edition, this definitive work on successful liquidations has been fully overhauled to bring the text in line with the major developments in legislation and case law that have taken place since the last edition. The new text now includes analysis of:


The latest domestic primary and secondary legislation, including the impact of the Small Business, Enterprise and Employment Act 2015 and the Insolvency (England and Wales) Rules 2016;
Exciting developments in case law, including from the Supreme Court (in particular Re Lehman Brothers International (Europe) (In Administration) [2017] UKSC 38), the Court of Appeal (including Premier Motorauctions Ltd (In Liquidation) v PricewaterhouseCoopers LLP [2017] EWCA Civ 1872 and Rowntree Ventures Ltd v Oak Property Partners Ltd [2017] EWCA Civ 1944) and the High Court (including In re Meem SL Ltd [2017] EWHC 2688 (Ch), Lehman Brothers Australia v Lomas [2018] EWHC 2783 (Ch), Burnden Group Holdings Ltd v Hunt [2018] EWHC 463 (Ch) and Davey v Money [2018] EWHC 766 (Ch));
The latest EU law, including the Regulation (EU) 2015/848 on Insolvency Proceedings (recast) and updates from the European Court of Justice;
Procedural updates, including the 2018 Practice Direction on Insolvency Proceedings.