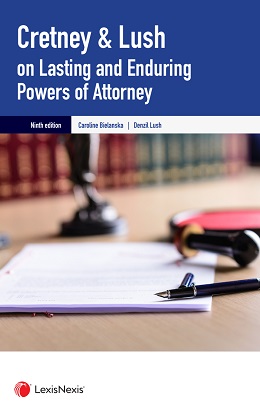 Cretney and Lush on Lasting and Enduring Powers of Attorney
Commentary
8th Edition
Cretney & Lush on Lasting and Enduring Powers of Attorney
is the leading work on this difficult and developing area of law.
Uniquely, this work provides full guidance on both enduring and lasting powers of attorney. It looks in detail at Lasting Powers of Attorney and the law and procedure relating to their creation and registration, and examines the duties and responsibilities that will remain in relation to existing Enduring Powers of Attorney.
Cretney & Lush on Lasting and Enduring Powers of Attorney
contains all relevant legislation, prescribed forms and commentary from a leading expert in the field.
The 8th edition has been significantly updated and expanded and includes:


The 2015 prescribed LPA forms and regulations


Emanating case-law, including capacity to revoke LPAs and EPAs


New chapter of severance cases


Extended precedents chapter


Extended chapter on the duties of attorneys, covering maintenance and family care payments


New section containing Law Society Practice Notes


Comparison of former and current OPG guidance