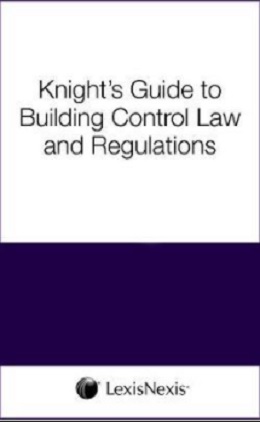 Knight's Guide to Building Control Law and Regulations
Commentary
Knight's Guide to Building Control Law and Regulations

Issue 92
September 2020

The Sections listed below have had some updating of text for this Issue:

Section 1 Legal Overview
Section 1 Annex Future of Building Control
Section 5 Annex Building Regulations consultation papers
Section 6 Ancillary legislation
Section 7 Approved Documents and British Standards
Section 11 Circulars and Guidance
Section 15 Planning matters
Section 16 Water and Drainage
Section 17 Fire Safety Legislation
Appendix 14 Green Deal matters
Volume 4 Approved Documents

In particular:
Section 1 The subsection recording the progress made on Brexit has been further updated to include the commencement of UK/EU negotiations relating to future trade arrangements and other agreements presently due to be completed by 31 December 2020. The commencement of further parts of the Withdrawal Agreement Act has also been noted.

Emergency restrictions imposed on the construction industry due to the outbreak of the coronavirus COVID-19 pandemic, are reviewed including site organisational arrangements (version 5 of 4 July 2020 prepared by the Construction Leadership Council) intended to allow work to proceed on most sites. Reference is also made to advice issued for BCOs by CABE and the RICS on 26 June 2020.

Annex to Section 1 The Public Inquiry into the Grenfell Tower fire disaster (Phase Two) has recommenced its work after a pause due to the COVID-19 pandemic. This is duly recorded in updated text.

Whilst an outline for a Building Safety Bill mentioned in the Queen's Speech of 19 December 2019 is already included, a more detailed draft of the Bill was published on 20 July 2020 and this will be considered in our next Issue.

Annex to Section 5 Commentary has been included on the government's response to proposals consulted on which included for the increased use of sprinklers in new high-rise blocks of flats. This is reflected by changes now made to Approved Document B (see Section 7).

Section 6 Commentary on the government's proposals to again amend the Energy Performance of Buildings Regulations 2012 is included.

Reference is also made in this Section to the effects of:


The provisions of new electrical safety standards for the privately rented housing sector in England.


The further commencement of the Mobiles Homes Act 2013.


An EC 'designation order' regarding access to or the pursuit of a regulated profession.


A safety of sports grounds designation order together with an order relating to football spectators and the European Championship and the coronavirus emergency.


Section 7 This section has had its regular update recording the amendments and changes made since the last Issue by the British Standards Institute to standards called up by the Approved Documents.

The 2019 version of both volumes of Approved Document B, as corrected and with amendments made up to May 2020, have been reviewed and further commentary added. However, in view of the succession of changes which have been made to these documents and to previous versions of Approved Document B over recent times, the whole of the commentary has now been recast.

And with the recasting of the commentary on Approved Document B, the opportunity has been taken to similarly update and recast the commentaries where necessary of other Approved Documents.

Section 11 This now includes MHCLG Circular 01/2020 and a circular letter issued on 26 May regarding the current situation of Approved Document B.

Section 15 Recent changes made to several sets of Town and Country Planning regulations in England, due to the incidence of the COVID-19 pandemic, have been added. These changes include temporary amendments to the regimes relating to: development management procedure, listed buildings, permitted development and environmental impact assessments.

In Wales, similar temporary amendments have been noted related to the planning applications regime generally.

Section 16 Changes made to text in this section include additional commentary on:

Guidance issued to the water sector by OFWAT relating to self-laying providers.


Commentary on amendments made to the approvals and adoption requirements for the provision of sustainable drainage in Wales.


Additional text has been inserted setting out the responsibilities of riparian owners especially in respect of culverts and flood risk management matters.


Appendix 14 Commentary on changes made to the Energy Efficiency (Building Renovation and Reporting) Regulations 2014 has been included.