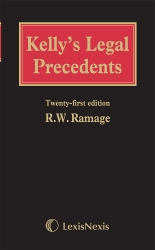 Kelly's Legal Precedents
This content is unique to LexisNexis
Forms & Precedents
Kelly's Legal Precedents has now been updated to take into account new precedents and amendments found in the first supplement to the 21st edition, published in September 2015.

— Preliminary chapter on crime and its impact on civil documents (Sally Ramage, editor of The Criminal Lawyer). This chapter has been wholly rewritten and expanded to reflect the increasingly important impact of criminal law (including civil and regulatory sanctions) in most branches of business and employment.

— Chapter 2: Standard clauses. A new note based on the Reuse Collections Ltd v Sendall [2014] All ER (D) 254 (Nov) case about adding restrictions to existing employment contracts, with an altered precedent in chapter 10. Alterations recognising that "levying execution" is now "taking control" Refining the number and gender clause by expressly including corporations in "person".

— Chapter 8: Commercial (Rex Nwakodo of Sheridans). Additional precedents titled (in alphabetical order): agency process services letter; business management agreement; company agreement individual performance indemnity letter; confidential information non-disclosure and IP rights assignment agreement; e-trade and internet services agreement; manufacturing agreement; nomineeship services & trust declaration in respect of shares, preliminary agreement and memorandum of understanding, pre-operations commencement and indemnity letter; and provision of nominee director services agreement. The time constraints on this supplement meant that they could not be put into the normal Kelly format (with inter-changeability of clauses for document creation), but the material was far too useful to be delayed.

— Chapter 9: Companies. Minor changes consequent on the Small Business, Enterprise and Employment Act 2015 (SBEEA 2015) and the new "names" regulations, SI 2015/17.

— Chapter 10: Employment. Updating of compensation, national minimum wage etc rates. An easier-to-use checklist for statutory statements of terms of employment. Zero hours note consequent on the SBEEA 2015. New precedents for joint employment, salary sacrifice and sabbatical leave. Revisions for the automatic enrolment (AE) section and the additions of an AE pack for small and micro-employers.

— Chapter 16: Family. A new precedent of a separatism deed for a co-habiting couple and (from me) new pension clauses in the co-habitation agreement.

— Chapter 21: Wills. Simplified will for single person; clauses for simple gift of residue to named persons; gifts by reference to letter or note left with will; discharge in respect of minors; gifts on failure or disclaimer of gifts.

— Chapter 22: Easements. A new precedent of an easement to lay and operate a gas pipe.

— Chapter 23: Leases and tenancy agreements. Additional precedent licence for hairdresser's chair, a lodger in a private residence, licence for landlord to carry out works, clauses, notices and declarations to exclude Part II of the Landlord and Tenant Act 1954; rent waiver letter; and CRAR notices to tenant and sub-tenant.

— Chapter 25: Charities. Timetable and ancillary documents for "conversion" of an existing charity to a Charitable Incorporated Organisation. New precedent for a memorandum of appointment of new trustees.