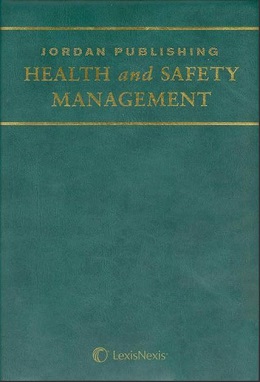 Jordan Publishing Health and Safety Management
Commentary
INCORPORATING UPDATE 46 (November 2020)

COSHH
Guidance on 'Acceptable limits of exposure' has been updated.
Elderly workers
A section has been added in Chapter 4 (Risk Assessment) on the management of elderly workers.
Food safety
A new section has been added detailing the standards that apply where food is prepared or sold in staff canteens and kitchens.
Gas safety
This section has been updated with additional information.
Local exhaust ventilation
Additional information on the selection, use and testing of local exhaust ventilation can be found in Chapter S1 (Substances Hazardous to Health).
Mats
Further advice on the use of mats to prevent slips and trips has been provided.
Noise
Additional information has been provided on the suitability of using phone apps when carrying out noise assessments.
Radon
A new section has been included providing guidance on the need to carry out radon testing of the workplace.
Reference sections
These have been updated in line with current guidance.
Safety checklists
The safety checklists in Chapter W1 (Work Equipment) relating to bandsaws, planetary mixers, pneumatic equipment and gas welding/flame cutting equipment have been updated.
Working from home
Additional information has been added to reflect the increase in homeworking due to COVID-19.