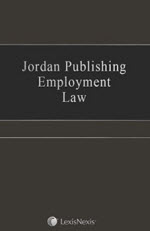 Jordan Publishing Employment Law (Archive)
This content is unique to LexisNexis
Commentary
SOURCE CURRENCY
Update 79 (December 2017)
This release includes updates to: Divisions A (Recruitment); C1 (During Employment: Remuneration, benefits and deductions); C3 ( (Maternity, Paternity and Adoption Rights); C7 (During Employment: Holidays and sickness); D3 (Termination of Employment: Unfair dismissal); D4 (Termination of Employment: Redundancy); E3 (Discrimination: Disability Discrimination); E4 (Discrimination: Age Discrimination); F (Trade Unions); and H1 (Employment Tribunals: Practice and Procedure).

Key points in this update include:

A summary of how it is expected that tribunals will deal with reimbursing tribunal fees and handling claims that were rejected because of non-payment of fees, following the Supreme Court's decision in R (on the application of Unison) v Lord Chancellor that the government's introduction of fees for employment tribunals was unlawful.


Overtime pay should be taken into account when calculating holiday pay if the pattern of overtime working is so regular as to make it 'normal' (Dudley Metropolitan Borough Council v Willetts and Others).


Contributions that an employer makes towards an employee's pension should be taken into account when calculating a week's pay for the purposes of calculating the maximum compensation award (52 weeks' pay) for unfair dismissal, says the EAT in University of Sunderland v Drossou UKEAT/0341/16.


Illustrations of the importance of getting the name of the employer exactly right when starting early conciliation; and if it is not right, then a fresh early conciliation application should be made immediately (Giny v VSNA Transport Ltd UKEAT/0317/16 and Chard v Trowbridge Office Cleaning Services Ltd UKEAT/0254/16).


The correct amount of annual salary to be deducted from employees who take strike action is 1/365th of the annual salary per day unless the contract of employment clearly states otherwise (Hartley and Others v King Edward VI College). This overturns previous cases which had held that the correct deduction was 1/260th of annual salary.


An illustration of the impact that the choice of 'bargaining unit' can have on a trade union's application for recognition and how disputes about whether a bargaining unit is appropriate are resolved (Lidl Ltd v Central Arbitration Committee).


How the 'Specified Method' of collective bargaining, which may be imposed on employers who fail to agree collective bargaining arrangements with recognised trade unions, applies to non-contractual arrangements – in this case, the company's rostering arrangements (British Airline Pilots' Association v Jet2.com Ltd).