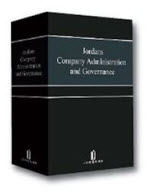 Jordan Publishing Company Administration and Governance
Commentary
Commentary
Jordan Publishing Company Administration and Governance is an essential reference tool for in-house lawyers, company secretaries, directors, accountants and company secretarial service providers.

Described as "an indispensable aid to the busy company secretary", Jordan Publishing Company Administration and Governance provides you with practical guidance in all the key areas of company administration and compliance, in a form that is easily accessible. Whether you need help on changing the accounting reference date of a company, choosing a name for a new venture or reviewing the company's insurance cover, this resource has it covered.

This title includes a vast array of information on all matters relating to private and public company administration and corporate governance in England and Wales. In addition to summarising the law, it provides useful footnotes with commentary on market practice.

Update 127 (November 2020):
Issue 127 includes amendments to the following parts: Parts 2 (Formation, Company Names and Constitution), 3 (Overseas Companies), 4 (Directors and Company Secretary) and 8 (Shares, Dividends and Loan Stock).