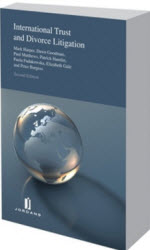 International Trust and Divorce Litigation
This content is unique to LexisNexis
Commentary
Currency: 3rd Edition, October 2019

Mark Harper, Partner, Hughes Fowler Carruthers
Dawn Goodman, Partner, Withers LLP

With a team of specialist contributors

"detailed information ... a valuable source of reference. There is a scarcity of detailed literature devoted to trust/offshore issues in a matrimonial context ... this readable book helps fill that void ... " Solicitors Journal

This fully updated new edition is an invaluable source of detailed information on international trusts in a divorce law context and includes an offshore perspective. It provides a readable, authoritative analysis of such topics as forum shopping, conflicts of law, enforcement, and asset protection legislation.

International Trust and Divorce Litigation is an indispensable practical guide for matrimonial and trust lawyers, trust practitioners, private bankers, and others representing high net worth clients.