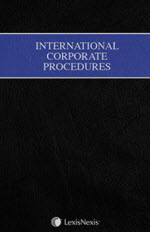 International Corporate Procedures
Commentary
Incorporating Update 112 - June 2020
Issue 112 of International Corporate Procedures reviews 11 jurisdictions:


Guernsey by David Crosland, Colin Calvert and Adam Schnider, Carey Olsen (Guernsey) LLP, St Peter Port: Parts I, II and IV.


Hungary by Gabriella Gálik, KCG Partners Law Firm, Budapest: Parts I–IV.


India by Gautam Khurana, India Law Offices, New Delhi: Parts I–IV.


Malaysia by Azmi & Associates, Kuala Lumpur: Parts I–IV.


Mexico by Ricardo Quibrera Saldana, ECOVIS Quibrera Saldana, Mexico City: Part III.


Netherlands by Ceriel Coppus, Kraaijeveld Coppus Legal BV, Amsterdam: Part III.


Russia by Max Gutbrod, Baker & McKenzie – CIS, Limited, Moscow and André Scholz, RSP International LLC, Moscow: Parts I and III.


Turkey by Ayse Yuksel Mahfoud, Norton Rose Fulbright Danismanlik Hizmetleri Avukatlik Ortakligi and Ekin Inal and A Ece Surmen, Inal Kama Avukatlik Ortakligi, Istanbul: Parts II and IV.


UK: England and Wales: by Steen Rosenfalck, ebl miller Rosenfalck: Bulletin and Parts I, II and IV.


UK: Scotland by Christopher Smith, Gillespie Macandrew LLP, Edinburgh: Parts I and III.


USA: Delaware by Steven J Daniels and Lisa P Ogust, Skadden, Arps, Slate, Meagher & Flom LLP: Parts I and II.