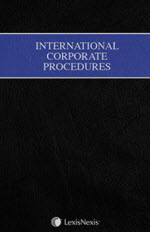 International Corporate Procedures
Commentary
Incorporating Update 115 - January 2021
Issue 115 of
International Corporate Procedures
reviews 9 jurisdictions.
The contents of this issue include:


Austria by Christoph Mager, DLA Piper Weiss-Tessbach Recht- sanwälte GmbH, Vienna: Parts I–IV.


Bermuda by Appleby (Bermuda) Limited: Parts I–IV.


Israel by Shemer Frenkel and Gil Raveh, Raveh Haber & Co, Ramat Gan: Part III.


Kenya by Richard Omwela, Hamilton Harrison & Mathews, Nairobi: Parts I–III.


Mexico by Vanessa Romero-Rocha, Stefano Amato, Carlo Can- nizzo and Marco Cannizzo, Cannizzo, México City: Parts I, II and IV.


Netherlands by Ceriel Coppus, Kraaijeveld Coppus Legal BV, Amsterdam: Part III.


Slovak Republic by Jakub Kováčik and Peter Čavojský, Čavojský & Partners, Bratislava: Parts I–IV.


Switzerland by Ueli Huber and Céline Martin, Homburger AG, Zurich: Parts II and III.


USA: Federal by David A Springsteen, Edward G O'Connell and Carl Stroh Jr, WithumSmith+Brown, Princeton, NJ: Part III


Issue 115 states the law as at 1 October 2020, except where otherwise indicated.