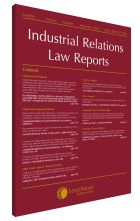 Industrial Relations Law Reports
This content is unique to LexisNexis
Cases
Throughout the UK, Industrial Relations Law Reports is the most widely read and frequently cited series of reports on employment law. Every month, thousands of legal and personnel specialists rely on it for up-to-date and accurate full-text law reports. IRLR is edited by the eminent employment law expert, Michael Rubenstein, and his comments and the cases IRLR selects are frequently quoted and discussed in other legal and personnel publications.
This series provides you with:
* Up-to-the minute coverage of employment case law - Cases are normally reported in IRLR ahead of other employment case law publications.
* Selectivity of cases - Industrial Relations Law Reports includes only the most significant employment law cases, so that you don't waste your time reading through cases that take the law no further.
* Penetrating analysis - Michael Rubenstein's highlights and comment pick out all the key points of the cases reported in each issue and analyse their implications.
UPDATE INFORMATION
Industrial Relations Law Reports are updated monthly.
AUTHOR INFORMATION
Twitter
To follow Industrial Relations Law Reports on Twitter
click here
COPYRIGHT INFORMATION
Some of the content in this title is reproduced under Crown copyright, under various different licensing arrangements. These may include Crown copyright and database right material re-used under the Open Government Licence v3.0 and case law licensed under the Open Justice Licence v1.0 (or any update of such). To view these licences, visit
https://caselaw.nationalarchives.gov.uk/open-justice-licence
and
https://www.nationalarchives.gov.uk/doc/open-government-licence/version/3/
.
Material derived from the European Institutions is © European Union, 1998-2023 and re-used under the terms of the Commission Decision 2011/833/EU. To the extent that the above licences do not apply, Crown copyright material is reproduced with the permission of the Controller of His Majesty's Stationery Office and the King's Printer for Scotland, while Parliamentary copyright material is reproduced with the permission of the Controller of His Majesty's Stationery Office.
While we take all care to ensure this work is accurate, the authors, editors and publishers will not be liable for any losses that any person or entity may suffer as a result of relying on its contents.
Any material which has been reproduced from the official website of the European Court of Human Rights is ECHR-CEDH copyright.