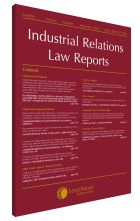 Industrial Relations Law Reports
This content is unique to LexisNexis
Cases
Throughout the UK, Industrial Relations Law Reports is the most widely read and frequently cited series of reports on employment law. Every month, thousands of legal and personnel specialists rely on it for up-to-date and accurate full-text law reports. IRLR is edited by the eminent employment law expert, Michael Rubenstein, and his comments and the cases IRLR selects are frequently quoted and discussed in other legal and personnel publications.
This series provides you with:
* Up-to-the minute coverage of employment case law - Cases are normally reported in IRLR ahead of other employment case law publications.
* Selectivity of cases - Industrial Relations Law Reports includes only the most significant employment law cases, so that you don't waste your time reading through cases that take the law no further.
* Penetrating analysis - Michael Rubenstein's highlights and comment pick out all the key points of the cases reported in each issue and analyse their implications.
UPDATE INFORMATION
Industrial Relations Law Reports are updated monthly.
AUTHOR INFORMATION
Twitter
To follow Industrial Relations Law Reports on Twitter
click here
Contributors
| | |
| --- | --- |
| Claire Masters | Series manager |
| Daniel Way | Technical editor |
| Michael Rubenstein | Editor |