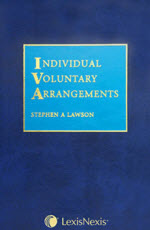 Individual Voluntary Arrangements
Commentary
SOURCE CURRENCY
Incorporating Update 53 (June 2020)

Please be advised that the statutory division maintained in this looseleaf has been removed (Part C). Fully consolidated and annotated UK legislation can be accessed through LexisLibrary. This service provides over 86,000 enactments dating back to 1266, with all new enactments loaded onto LexisLibrary within 24 hours of publication. Please visit www.lexisnexis.co.uk/en-uk/products/lexis-library page for a free trial or speak to your Account Manager.

Issue 53 considers the following:


A Temporary Practice Direction at D16A supporting the Insolvency Practice Direction, which came into force on 6 April 2020, with the dual purposes of avoiding the need for parties to attend court in person and to deal with some of the problems arising from the need for the courts to operate with limited staff and resources.
The Coronavirus (COVID-19) Guidance for the Straightforward Consumer IVA Protocol, effective from 20 April 2020, which amounts to guidance as to how Protocol-compliant IVAs should be dealt with during the pandemic. It is referred to in A4A[15] and set out in full at E25.
Extract from 'Dear IP' No 97 at D22 in the form of guidance produced by the IVA Standing Committee, to provide support for consumers who are currently in a Protocol-compliant IVA and to those who are proposing a new IVA during the COVID-19 pandemic.