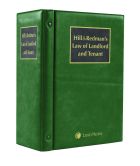 Hill and Redman's Law of Landlord and Tenant
This content is unique to LexisNexis
Commentary
The leading practitioner work on Landlord and Tenant Law, covering everything from general common law rules to business tenancies and from private and public sector housing to agricultural tenancies. Information is divided into six divisions, each containing narrative guidance, statutes and statutory instruments. The seventh division contains a comprehensive selection of precedents and the key issues involved in the drafting of leases.
SOURCE CURRENCY
Issue 127, October 2020
UPDATE INFORMATION
Division A General Law
Chapter 7 Rent reviews
has been updated.
Chapter 11 Statutory regulation in respect of service charges, administration charges and the management of residential premises
has been updated.
Chapter 17 Stamp duty land tax
has been updated.
The commentary to the Landlord and Tenant (Covenants) Act 1995 has been updated.
Division D Public Sector Residential Tenancies
The commentary to the Housing Act 1985 has been updated.
Statutory material has been updated.
An updated index is provided.
Please note that the Bulletin accompanying this looseleaf service is no longer being produced. Current awareness alerts relating to Property Law can be set up on Lexis?Library (
http://www.lexisnexis.com/uk/legal/alerts/alertsList.do?listType=L
), and the LexisNexis Purpose Built blog can be accessed for free legal updates and other helpful content (
http://blogs.lexisnexis.co.uk/purposebuilt/
). The Filing Instructions accompanying this issue will include instructions to remove the current bulletins, and these can be archived elsewhere if you wish.
Contributors
| | |
| --- | --- |
| Alison Oakes , BA (Durham), of Inner Temple, Barrister | Specialist editor |
| Beatrice Prevatt , BA (Oxon), of Gray's Inn, Barrister | Specialist editor |
| Benjamin Faulkner | Specialist editor |
| Camilla Lamont , MA, BCL (Oxon) of Middle Temple, Barrister | Specialist editor |
| David di Mambro , LLB (Hons) (Lond), Ch Arb, FCIArb, of the Middle Temple, Barrister, Fellow of the Society for Advanced Legal Studies and a member of the Civil Procedure Rules Committee (2004-) | Specialist editor |
| James Ayliffe , QC, MA, of Lincoln's Inn, Barrister | Specialist editor |
| Joanne Moss , MA (Cantab), LLM (Lond), FCL Arb, of Inner Temple, Barrister | Editor |
| John Furber QC , MA (Cantab), of Inner Temple, Barrister | General editor |
| John Male QC , BA (Cantab), of Lincoln's Inn, Barrister | Specialist editor |
| Jonathan Karas , QC (Oxon), of Middle Temple, Barrister | Specialist editor |
| Louisa Nye MA (Cantab), LLM (LSE) | Specialist editor |
| Michael Barnes , QC, BA (Oxon), of Middle Temple, Recorder of the Crown Court, Honorary Research Fellow of Lady Margaret Hall, Oxford | Specialist editor |
| Myriam Stacey , LLB (Bristol), of Inner Temple, Barrister | Specialist editor |
| Neil Baylis | Specialist editor |
| Nicholas Taggart , LLB (Lond), BCL (Oxon), of Middle Temple, Barrister | Specialist editor |
| Paddy Behan ,BCL (NUI), DipICEI (Amsterdam), of King's Inns, Dublin, Barrister, Director of Behan & Co Ltd, Indirect Tax Advisers | Specialist editor |
| Roger Thomas ,MA, BCL (Oxon), of Lincoln's Inn, Barrister | Specialist editor |
| Rt Hon Viscount Dilhorne , FTTI, Mem Council 1967 to 1972, Chairman of VAT and Duties Tribunal 1986 to 1995, of Inner Temple, Barrister | Specialist editor |
| Tiffany Scott , BA (Oxon), of Middle Temple, Barrister | Specialist editor |
| Timothy Harry , MA, BCL (Oxon), of Lincoln's Inn, Barrister | Specialist editor |
| Wayne Clark , LLB (Lond), BCL (Oxon), of Middle Temple, Barrister | Specialist editor |