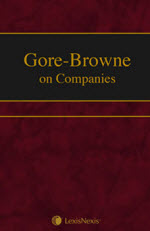 Gore-Browne on Companies
Commentary
SOURCE CURRENCY
Issue 160, November 2020

Issue 160 includes amendments to 15 chapters, namely Chapters 5 (Overseas Companies), 7 (Legal Personality), 15 (Directors' Duties), 19 (Unfair Prejudice), 25 (Dividends), 39 (Quoted Companies: The UK Framework), 49 (Introduction to Restructuring and Insolvency), 50 (Receivership), 54A (Floating Charges and Receivers in Scotland), 55 (Compulsory Liquidation: Grounds), 56 (Compulsory Liquidation: Procedure), 57 (Voluntary Liquidation: Procedure), 59 (Claims Against the Company), 60 (Application of Funds and Dissolution) and 63 (Companies and the Conflict of Laws). Chapters 7, 15, 49, 54A, 55, 56, 57, 59 and 60 have been amended in relation to Scottish updates only.

Chapter 25 has been updated by new contributor Mark Cardale, Solicitor, ACG, Director of Sanctuary Governance (Development and Training). Chapter 63 has been updated by new contributor Paul Torremans, Professor of Intellectual Property Law and co-director of the University of Nottingham Commercial Law Centre, Faculty of Social Sciences.

A summary of changes relating to Brexit now appears before Chapter 5.