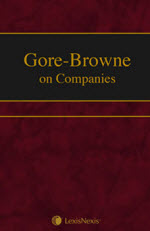 Gore-Browne on Companies
This content is unique to LexisNexis
Commentary
Gore-Browne on Companies is the definitive authority on company law. From constitution through to liquidation, it provides comprehensive answers to questions about directors' duties, share capital, mergers, insolvency and much more. In addition there is a regular bulletin tracking all the latest cases with related transcript, consolidated company law database and destination tables. Since 1873, Gore-Browne on Companies has kept solicitors and barristers at the cutting edge of company law and practice. As the Companies Act 2006 changes the legal landscape, this reliability matters more than ever.
Source Currency
Issue 184, November 2023
Update Information
Issue 184 includes amendments to eight chapters, namely Chapters 3
(Registration and Registered Offices), 5 (Overseas Companies), 20A
(Disqualification), 25 (Dividends), 34 (Confirmation Statements and Reg-
isters of Persons with Significant Control), 37B (Functions and Liability of
Auditors), 45 (Takeover Code) and 52 (Administration).