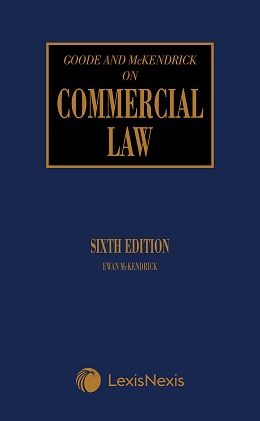 Goode and McKendrick On Commercial Law
Commentary
Commentary
Goode and McKendrick on Commercial Law is the first port of call for the modern day practitioner with its theoretical and practical coverage of commercial law in both a national and an international context. This highly acclaimed and authoritative text, which is regularly cited by all courts from the Supreme Court downwards, combines a deep theoretical analysis of foundational principles with a practical approach in the context of typical commercial and financial transactions. It is also replete with diagrams and specimen forms covering a wide range of transactions.
SOURCE CURRENCY
Sixth Edition, 1 June 2020
UPDATE INFORMATION
This Sixth edition of Goode on Commercial Law has been retitled
Goode and McKendrick on Commercial Law
and has been fully edited and revised by Professor Ewan McKendrick to take account of recent legal developments.
Key updates for this new edition include:


Analysis of a number of high-profile Supreme Court decisions on aspects of commercial law, including retention of title clauses, insolvency, letters of credit and arbitration;


The latest on Incoterms® 2020 and the Business Contract Terms (Assignment of Receivables) Regulations 2018;


Commentary on the extensive changes that have taken place in the regulation of payment systems and the increasing reliance on electronic communications and the emergence of cryptocurrencies;


A discussion of recent developments in commercial contract law including the principles applicable to the interpretation of contracts, the regulation of no reliance and basis clauses and the emergence of negotiating damages;


An exploration of the importance of certainty in commercial law and the relationship between law and technology, particularly as it relates to cryptoassets and cryptocurrencies and electronic signatures;


An examination of the implications of Brexit for the future of commercial law.