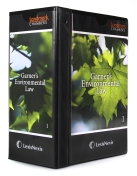 Garner's Environmental Law
This content is unique to LexisNexis
Commentary
From an original work by the late J F Garner, Solicitor, Emeritus Professor of Public Law, University of Nottingham. New commentary is written by contributors at Landmark Chambers and at 6 Pump Court Chambers, with assistance from Terra Firma Chambers for Scottish Environmental Law.
Garner's Environmental Law is a comprehensive collection of UK Acts, statutory instruments, Scottish Acts and SIs covering environmental law. The work now includes new authoritative commentary dealing with a range of topics from regulation, enforcement and disputes, to reporting and management, taxes and incentives, waste and hazardous substances, marine and pollution, conservation and habitats.
The service is fully maintained through regular issues, informing subscribers of forthcoming legislation, cases and prosecutions.
SOURCE CURRENCY
Issue 136, November 2023
The following chapters have been updated to reflect recent changes:


1A Regulation, Enforcement and Disputes


1B Part 1 – Judicial Review


1B Part 2 – Statutory Review and Statutory Appeals


4A Contaminated Land


6C Renewable Energy Obligations and Incentives