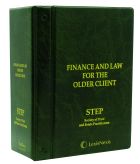 Finance and Law for the Older Client
This content is unique to LexisNexis
Commentary
Published in association with the Society of Trust and Estate Practitioners, this service is designed to help financial advisers, lawyers and accountants advise their elderly clients on a range of financial and legal topics. It contains easy to access information that is both detailed and practical. Includes strong emphasis on financial matters, such as pensions, mortgages, gifts and taxation.

The work contains eleven main areas:
* Financial Matters
* Capacity
* Will Drafting
* Accommodation
* Community and Residential Care
* Powers of Attorney
* The Court of Protection
* Living Wills
* Abuse
* Dying Tidily
* Grandparents

SOURCE CURRENCY
Issue 94, November 2023


The following chapters have been updated:

A6: Welfare Benefits
D1: Legal Capacity
D2: Mental Capacity: Health and Social Care Issues
D3: The Deprivation of Liberty Safeguards
F1: The Court of Protection
G3: General End of Life Rights and Ethical Issues
J1: Why Have a Will?
J2: Requirements for a Valid Will
J3: Basic Will Drafting
J7: Professional Duties of Care