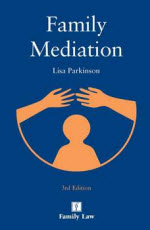 Family Mediation
This content is unique to LexisNexis
Commentary
SOURCE CURRENCY
4th Edition, April 2020

Lisa Parkinson, Family mediator, consultant and trainer, Co-founder and Vice President of the Family Mediators Association

Joint Editorial Consultants:

Neil Robinson, Mediator, consultant and trainer, Mental Health Tribunal Judge and Visiting Professor, Staffordshire University

Philippa Johnson, Mediator and trainer, non-practising barrister and law reporter, former Chair of the FMA's Board of Trustees

In order to explain dispute resolution processes, assess the suitability of mediation and assist family members to work out mutually agreed decisions and arrangements, mediators need interdisciplinary knowledge combined with empathy, cross-cultural awareness and a high level of interpersonal, communication and conflict management skills.

This 4th Edition of Lisa Parkinson's book refers to recent developments in family law and includes new thinking on mediation theory and practice, and new requirements for child-inclusive mediation. The principles and process of family mediation are explained and illustrated with numerous case examples. Mediation with families during periods of upheaval and change needs to be placed in the context of the family justice system and support systems for adults and children. The appendices contain key sample documentation. This is the authoritative book in its subject area and essential reading for all mediators.