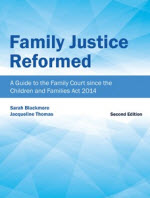 Family Justice Reformed: A Guide to the Family Court since the Children and Families Act 2014
This content is unique to LexisNexis
Commentary
SOURCE CURRENCY
2nd Edition

Family Justice Reformed contains detailed commentary on the Single Family Court and the Children and Families Act 2014, Pts 1 and 2 (which deal with family justice), including clear and comprehensive guidance on the underlying procedural regime and the rationale for the reforms.

The reforms continue to represent a huge change to the manner in which professionals working in the family justice system have to approach and deal with cases, and this comprehensive practitioner's text provides an invaluable guide thereto.

This new edition has been thoroughly revised throughout and contains analysis and practical guidance on all recent developments, including additional chapters on 'The challenges in cases involving young adults' and 'Digital Court modernisation'. An Appendix contains relevant legislative provisions and guidance.

The book also provides clear practice guides, summaries and glossaries of legal terms, with a view to assisting litigants in person who are negotiating their own way through the system.