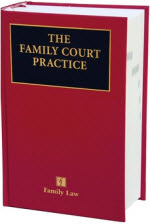 The Family Court Practice (The Red Book)
This content is unique to LexisNexis
Commentary
SOURCE CURRENCY
2023 Edition (November 2023)


UPDATE INFORMATION

The text has been updated to fully incorporate all of the recent changes to the FPR and CPR and accompanying Practice Directions.

What's new for 2023
The 2023 Edition has been enhanced and revised throughout to include:



Amendments made to the Rules by the Family Procedure (Amendment) Rules 2023, SI 2023/61, the Civil Procedure (Amendment) Rules 2023 SI 2022/105, the Civil Procedure (Amendment No 2) Rules 2023, SI 2023/572, and the Civil Procedure Amendment (No 3) Rules 2023, SI 2023/788


Fully updated Procedural Guides including a new guide to an application for a legal services payment order


All recent legislative developments


The latest amendments to the FPR and supplementary Practice Directions, including amendments to Practice Directions by FPR Updates No 3 of 2023, No 4 of 2023 and No 5 of 2023


The latest updates to the CPR and supplementary Practice Directions


Detailed analysis and practical guidance on all recent case law and key procedural developments in the areas of divorce, civil partnership, private/public child law, financial provision, enforcement and appeals


Important guidance issued by the President of the Family Division (eg Practice Guidance: Non-Molestation Injunctions; Revised National Listing Protocol for Applications that Seek Deprivation of Liberty Orders Relating to Children under the Inherent Jurisdiction; Revised Practice Guidance on the Court's Approach to Unregistered Placements; Disclosure of Electronic-Documents and the Civil Procedure Rules)


Additional legislation including Civil Evidence Act 1968 (convictions, privilege against self-incrimination) and Civil Evidence Act 1995 (hearsay), relevant provisions of the Taxation of Chargeable Gains Act 1992


Online archive begun with previous editions of the Red Book from and including 2020 edition


The Family Court Practice (Red Book), covers the entire range of family business and contains all the essential materials you need to practise in the Family Court.

The new edition is fully updated to include the latest case law, full coverage of new and amended legislation, Practice Directions and guidance. It also contains fully and expertly annotated statutes and rules together with scores of unique step-by-step procedural guides, which direct you effortlessly to the relevant rules and annotation.

Contents
Part I: Procedural Guides
Detailed guidance covering the following areas:


Applications for Relief Other Than Divorce
Application for Matrimonial and Civil Partnership Proceedings and Related Orders
Enforcement of Orders
Children
Judicial Reviews and Appeals
Miscellaneous


Part II: Statutes
Pertinent provisions of all relevant statutes, reproduced in amended form and annotated by the expert team of contributors.

Part III: Procedure Rules
The full text of the Family Procedure Rules 2010 and practice directions, plus relevant provisions and practice directions from the Civil Procedure Rules 1998. All provisions are reproduced as amended, along with detailed explanation and guidance.

Part IV: Statutory Instruments
Pertinent provisions of all relevant SIs appear in amended form, with commentary from the expert team of contributors.

Part V: Practice Guidance
Relevant practice guidance for family law practitioners.

Part VI: International and Legacy European Material
Coverage of significant European Regulations and Conventions, all fully annotated.

Part VII: Welsh Material
Relevant Welsh legislation and codes of practice.
Contributors
| | |
| --- | --- |
| District Judge Charles Prest KC | General editor |
| Her Honour Nasreen Pearce | Contributing editor |
| The Hon Mr Justice Williams | Contributing editor |
| The Hon Mr Justice MacDonald | Contributing editor |
| David Salter MA, LLM Solicitor, former Recorder and Deputy High Court Judge | Contributing editor |
| Damian Garrido KC, Harcourt Chambers, Recorder and Deputy High Court Judge | Contributing editor |
| Elizabeth Isaacs KC, Deputy High Court Judge | Contributing editor |
| District Judge Michael Anson, Preston Combined Court Centre and Nominated Judge of the Court of Protection | Contributing editor |
| Rhys Taylor Barrister, Arbitrator and Mediator, The 36 Group | Contributing editor |
| Alexander Laing Barrister, Coram Chambers | Contributing editor |
| Eleri Jones Barrister, 1GC Family Law and Fellow of the International Academy of Family Lawyers | Contributing editor |
| Daniel Eames, Partner Michelmores LLP | Contributing editor |
| James Pirrie Solicitor, Mediator, Arbitrator & Collaborative Lawyer, Family Law in Partnership Ltd | Contributing editor |
| District Judge Mark Andrews, Manchester Civil and Family Justice Centre | Contributing editor |
| Ruth Henke KC, Deputy High Court Judge | Contributing editor |
| Deirdre Fottrell KC, 1GC Family Law | Contributing editor |
| District Judge Sophie Harrison, The County and Family Courts and Court of Protection, Reading | Contributing editor |
| Neil Hickman, Former District Judge | Contributing editor |
| The Rt Hon Sir Andrew McFarlane, President of the Family Division | Contributing editor |
| The Hon Mr Justice Keehan | Contributing editor |