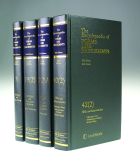 Encyclopaedia of Forms and Precedents
This content is unique to LexisNexis
Forms & Precedents
SUMMARY
EF&P is the UK?s most comprehensive source of precedents for (non-litigating) solicitors. It contains almost everything that both the specialist and the non-specialist lawyer (in non-contentious fields) is likely to need:
Around 15,000 forms and precedents (including those for sale of land, landlord and tenant, commercial law, wills and trusts, family law)


Practical drafting notes to precedents


Detailed commentary on relevant law and practice


Checklists, procedural tables and guidance on land registration, stamp duty, and taxation
Contributors
are leading authorities in their fields ? solicitors, barristers, academics and members of the judiciary.
For enquiries about EF&P content please call LexisNexis Customer Support on 0330 161 1234.
TEAM

The team constantly monitor and respond to feedback from customers on the Customer Services helpline: contentsupport@lexisnexis.co.uk.
UPDATING
EF&P is updated on a rolling basis throughout the year in response to changes in practice and the law. As a minimum, this means 1 release per month. A release may include:
A complete rewrite of material in a single title, including commentary and precedents


Amended precedents only


Information notes highlighting forthcoming changes
The team review the material across the titles, and new developments in the law and practice are reflected in
title rewrites
or
selective updating
.
EF&P is contributed by specialist authors; therefore all new legislation cannot be incorporated immediately.
Date stamps
Titles and precedents state when (and, where practical, how) they have been amended. Italic text under precedent headings, and bold text at the end of title overviews, show the date and nature of amendments. The dates on which titles were last reissued and amended are also in the
list of titles and authors
below.
Terms used in date stamps mean the following:
EFP 23(2): 01/2021 or Volume 23(2) Landlord and Tenant (Residential Tenancies): 01/2021.
This title has been reissued to take into account the law as at that date.
Fully revised 01/2021.
This precedent or title has been revised to take into account all changes to the law made up to and including that date.
Last amended 01/2021.
This precedent or title was last selectively amended on that date to take into account specific changes to the law. May also indicate an updating note to the title.
Amended 01/2021
This precedent was selectively amended on that date to take into account specific changes to the law. May also indicate an updating note to the title.
NEW TOP
Whole titles

CLAUSE BANK vol 7(1)C
The title CLAUSE BANK provides access to thousands of practice-specific model clauses. It has been designed as a time and expense saving tool for busy practitioners facing drafting issues for which they have no readily available precedents. Subscribers can search each volume of the Clause Bank by way of the easy to follow Contents pages which list all the clauses in groups according to the type of agreement in which they might be used. Subscribers can then select the appropriate clauses to supplement their own standard documentation.
Alternatively, by using the Clause Bank in conjunction with the Form Finder, which provides a comprehensive and accurate guide to the forms and precedents within the Encyclopaedia, subscribers will be able to make more effective use of the Encyclopaedia itself by locating the deeds and agreements they require then supplementing them with additional or alternative clauses which correspond more closely with their clients' wishes.
Volume 7(1)A (2020 Reissue) contains clauses for a range of commercially orientated documents, company documents and partnership documents. Volume 7(1)B (2021 Reissue) contains clauses for use in connection with sale of land, mortgages and leasing of commercial property. Volume 7(1)C, which has been fully revised and updated in this 2021 Reissue, contains clauses for leasing of residential property, family, gifts, dealings with choses in action, trusts and wills.
The clauses in the Clause Bank are not drafted to fit into a particular framework and some adaptation will be required when used. Defined terms are often phrased with the intention of clearly identifying the person or body being referred to, and therefore frequently are not the terms that would be used in an actual document.
Clauses are drafted on the presumption that standard interpretation clauses are employed in the document. If this is not the case the user should be aware that amendments may be required.

EMPLOYMENT vol 14(1)C
Volume 14(1)C, which has been fully revised and updated in this 2021 Reissue, covers the employment relationship and the termination of employment, including termination at common law, unfair dismissal and entitlement to a redundancy payment. Along with settlement agreements, it contains policies and procedures relating to:



equality, including transgender and other gender equality;


menopause in the workplace;


harassment and bullying;


family leave (antenatal appointments, maternity leave, shared parental leave, parental leave, paternity leave and adoption leave);


flexible working and flexitime;


job-sharing and time-off for studying and training;


Sunday working;


data protection, including privacy notices and subject access requests;


information security and the use of email, the Internet and social media;


whistleblowing;


health-related issues, such as smoking, substance misuse, stress and mental health;


performance and capability;


disciplinary and grievance; and


individual and collective redundancy.


ENERGY (PIPELINES) vol 14(3)
This volume 14(3) (2021) ENERGY (PIPELINES) is newly introduc14(3)o the title scheme of the Encyclopaedia of Forms and Precedents. It replaces vol 31(2) (2008) PIPE-LINES and has been fully updated and expanded in the light of all recent changes to the law and practice relating to pipelines, including the Energy Act 2016 and the introduction of the independent oil and gas regulator, the Oil and Gas Authority ('OGA'). While the OGA is responsible for the licensing of exploration and development of the UK's offshore and onshore oil and gas resources, carbon storage, gas storage and unloading activities, the Department for Business, Energy and Industrial Strategy continues to be responsible for the regulation of the UK's oil and gas resources. The Health and Safety Executive's Energy Division is responsible for the safety of the onshore and offshore pipeline industry.
This volume covers the consenting regime for the construction and expansion of cross-country pipelines, both under the Pipe-lines Act 1962 and the Planning Act 2008 (including the large body of recently-implemented secondary legislation under the Planning Act 2008). The volume contains applications, notices and related forms for the authorisation of onshore pipeline works and relating to the compulsory acquisition of land and rights for pipeline infrastructure projects. It also contains forms of consent from the owners and occupiers of land and a selection of leases and transfers for the acquisition of rights by agreement. The offshore pipelines section, which contains block-crossing agreements, has been expanded to include the OGA's pipeline works authorisation ('PWA') application forms.


LANDLORD AND TENANT (BUSINESS TENANCIES) vol 22(1)
Volume 22(1) (2021) LANDLORD AND TENANT (BUSINESS TENANCIES) contains a detailed commentary relating to the law affecting the landlord and tenant relationship generally (but with a specific focus on business lettings) which has been expanded and updated to reflect the legislative and extensive judicial developments and changes in practice that have taken place since its previous reissue in 2016. The basic format of the commentary is retained and commences by examining the distinction between leases, licences and tenancies at will and the problems associated with allowing a prospective tenant into possession before completion. The commentary also considers issues relating to the capacity of landlords, tenants and sureties and the nature and extent of their respective liabilities. The use of agreements for lease and the creation, form, contents and termination of leases are covered in detail. Subleases, variations, consents and surrenders receive separate coverage and there is specific detailed consideration of rent review provisions and the statutory scheme of protection that applies to leases of business premises. A new section has been added in relation to the statutory procedure of commercial rent arrears recovery. The period since the last reissue in 2016 has, in general terms, been one of significant judicial activity, and the consequential developments of principle are also considered and explained in full.
Developments in case law include such important decisions as: Cocking v Eacott 2016, CA; Edwards v Kumarasamy 2016, SC; Matchmove Ltd v Dowding 2016, CA; Watts v Stewart 2016, CA; Dodd v Raebarn Estates Ltd 2017, CA; London Borough of Hounslow v Waaler 2017, CA; Lakeside Developments Ltd v Gibbs 2018, CA; No. 1 West India Quay (Residential) Ltd v East Tower Apartments Ltd 2018, CA; Reiner v Triplark Ltd 2018, CA; S Franses Ltd v The Cavendish Hotel (London) Ltd 2018, SC; Sequent Nominees Ltd v Hautford Ltd 2018, SC; Trillium (Prime) Property GP Ltd v Elmfield Road Ltd 2018, CA; Brar v Thirunavukkrasu 2019, CA; Cornerstone Telecommunications Infrastructure Ltd v Compton Beauchamp Estates Ltd 2019, CA; Rogerson v Bolsover District Council 2019, CA; Toms v Ruberry 2019, CA; 89 Holland Park Management Ltd v Hicks 2020, CA; Duval v 11–13 Randolph Crescent Ltd 2020, SC; Earl of Plymouth v Rees 2020, CA; Sara & Hossein Asset Holdings Ltd v Blacks Outdoor Retail Ltd 2020, CA; Capitol Park Leeds plc v Global Radio Stations Ltd 2021, CA; Faiz v Burnley Borough Council 2021, CA; Keshwala v Bhalsod 2021, CA; Marlborough Knightsbridge Management Ltd v Fivaz 2021, CA; Monsolar IQ Ltd v Woden Park Ltd 2021, CA; Peninsula Securities Ltd v Dunnes Stores (Bangor) Ltd 2021, SC; Proctor v Proctor 2021, CA; and TFS Stores Ltd v Designer Retail Outlet Centres (Mansfield) Ltd 2021, CA.
Changes in practice are also dealt with, in particular the RICS professional statements 'Service Charges in Commercial Property' (1st Edition) and 'Code for Leasing Business Premises in England and Wales' (1st Edition).
The volume concludes with a checklist of issues to be considered when acting for business tenants taking the grant of a lease.

POWERS OF ATTORNEY vol 31(2)
Powers of attorney play an important role in enabling effective delegation in a wide variety of situations. POWERS OF ATTORNEY (2021 Reissue) has been thoroughly revised and updated to take into account recent developments arising from case law and legislative provisions. The Commentary and Forms and Precedents sections cover the following three areas:
Ordinary powers of attorney: The change in use of powers of attorney by businesses and the Land Registry is contained in the revised commentary section. The precedents include a checklist of steps to take when obtaining instructions to prepare an ordinary power of attorney and precedent powers of attorney for use in a variety of situations. A clause bank is also included, along with a number of additional documents such as deeds of revocation and the appointment of a substitute attorney.
Lasting powers of attorney: The Mental Capacity Act 2005 provides for the creation of a lasting power of attorney. This part of the title updates practitioners with the revised statutory instruments and regulations on making and using lasting powers of attorney, in particular:



the prescribed forms of lasting power of attorney;


changes to the certificate providers rules;


interactions between advance decisions and lasting powers of attorney;


digital lasting powers of attorney;


safeguarding issues, including the criminal offence of controlling or coercive behaviour in an intimate or family relationship; and


changes made to the registration of lasting powers of attorney.



This part provides detailed commentary and practical checklists of steps to take when obtaining instructions for drawing up lasting powers of attorney and when applying to the Public Guardian for registration. The prescribed forms for the creation of a lasting power of attorney are included, together with notes for their completion, and an updated bank of precedent clauses. Subsequent revocation of lasting powers of attorney is also dealt with, together with the procedures for application, notice, objection and searching the register.
Enduring powers of attorney: This part of the title provides current information about managing and using enduring powers of attorney. Although no new enduring powers of attorney can be created, legislation and current case law stipulates how they may be used, how issues are to be resolved and matters surrounding registration, revocation and disclaimer by attorneys. This part examines these points and how practitioners should approach checking the validity of enduring powers of attorney. It also includes a checklist of steps to take when applying to register an enduring power of attorney with the Public Guardian and the prescribed form of application, together with guidance notes. Forms of disclaimer and related notices and letters to accompany applications to the Office of the Public Guardian are also included.


EMPLOYMENT vol 14(1)A
The EMPLOYMENT title appears in three volumes:
Volume 14(1)A (2021 Reissue) covers recruitment and the terms of engagement between the employer organisation and the individual employee or worker. This volume has been fully updated and revised to reflect recent legislative and case law developments, including: the latest Home Office immigration rules and code of practice on preventing illegal working; the effect on apprenticeship schemes of the phasing out of recognised English frameworks and the introduction of the new regime for approved English apprenticeships schemes, together with the 2021 changes to the funding of those schemes; the changes to the rules relating to the requirement for a written statement of particulars of employment under the Employment Rights Act 1996; the latest developments in data protection law; the changes to the law relating to the carry-over of holiday as a result of the Coronavirus pandemic; and the emerging impact on employment law of the United Kingdom leaving the European Union. The precedents section has a wide range of precedents, including:




letters offering employment and pre-employment medical reports and consents;


terms of engagement for use by employment businesses and agencies;


statements of particulars of employment for employees and workers;


employment and worker contracts, zero hours contracts, executive service agreements, and trainee, apprenticeship and secondment agreements;


a clause bank of provisions for use in employment contracts;


national minimum wage notices and agreements; and


notices and letters relating to holiday pay, days and hours of working, and workforce agreements under the Working Time Regulations 1998.




Volume 14(1)B contains commentary and forms and precedents on the following topics:




the transfer of businesses and employees rights under the TUPE Regulations;


consultation in the workplace and the election of employee representatives;


collective rights and trade unions; and


employee share schemes.



Volume 14(1)C covers policies and procedures regulating to the employment relationship and the termination of employment, including:




equal opportunities;


disciplinary and grievance;


capability, sickness and attendance;


time-off from work, family leave, flexible working and job-sharing;


data protection;


internet, social media and electronic communications;


whistleblowing;


agreed settlements and retirement;


unfair dismissal; and


redundancy.





BUILDING SOCIETIES vol 6(1)
The title BUILDING SOCIETIES (2021) has been updated by Richard Martin. Richard has had a long career in financial services regulation: initially with the Registry of Friendly Societies ('RFS'), then with the Financial Services Authority ('FSA') from its inception in 1999, and latterly with the Financial Conduct Authority ('FCA'). Richard's work at RFS covered front-line regulatory supervision of building societies, friendly societies and credit unions. The 1999 transition and integration of RFS into the FSA (and the implementation of the Financial Services and Markets Act regime in 2001) increased Richard's regulatory remit to include business conduct and authorisation across the mutuals sector. By 2004 Richard's focus had progressed to the authorisation of mergers & acquisitions and controllers. The creation of the FCA in 2013 added alternative investment funds to Richard's interests. Richard retired from the FCA in 2014 to establish M&G Advisory Services Limited Limited (with lawyer and co-director John Gilbert) a regulatory consultancy for financial mutuals.
BUILDING SOCIETIES takes account of the major changes in the law and regulation of building societies introduced by the Financial Services Act 2012, including the creation of the Financial Conduct Authority ('FCA') and the Prudential Regulation Authority ('PRA') (replacing the previous Financial Services Authority as the primary regulator). Along with banks, financial institutions, insurers and investment firms, building societies have been incorporated within the dual regulatory regime of the FCA and the PRA. The FCA is responsible for the registration of new building societies and for regulating the conduct of business, while the PRA administers the prudential supervision of building societies. The PRA has published a number of 'Supervisory Statements' (replacing and consolidating content from the FSA's Interim Prudential Sourcebook for Building Societies) setting out detailed prudential standards and related notification requirements applying to building societies. The precedents in this title take account of these new provisions.


LEASEHOLD REFORM AND ENFRANCHISEMENT vol 25(4)
Volume 25(4) (2021) LEASEHOLD REFORM AND ENFRANCHISEMENT has been comprehensively revised and updated by the enfranchisement team at Commonhold and Leasehold Experts Limited.
Volume 25(4) (2021 Reissue) includes sections covering:



proposed reforms to the leasehold system;


the enfranchisement of leases of houses under the Leasehold Reform Act 1967;


the collective right of long leaseholders of flats to acquire the freehold of their building and the individual right of the leaseholder of a flat under a long lease to acquire a new lease under the Leasehold Reform, Housing and Urban Development Act 1993;


tenants' rights of first refusal and compulsory acquisition of the landlord's interest under the Landlord and Tenant Act 1987 Parts I and III;


the enlargement of long terms under the Law of Property Act 1925 Section 153;


the law of bona vacantia in relation to reversions; and


voluntary transactions which can be negotiated for individual lease extensions and collective enfranchisements.




This volume examines the various ways in which Parliament has intervened to give tenants of residential property under long leases the right to acquire their landlord's interest, and compares and assesses the options open to tenants. As well as clear practical advice, the volume contains a comprehensive set of forms including checklists outlining the often complex procedures, and all necessary notices and other associated documentation.
The title has been extensively updated and revised to take account of the ongoing development of this area of law. The Leasehold Reform Act 1967 and Leasehold Reform, Housing and Urban Development Act 1993 are in the process of being reviewed with a view to overhauling the entire system both procedurally and on valuation. This area of law has been subject to an extensive review by the Law Commission which made a range of radical recommendations for reform. At the time of writing, these recommendations are being considered by the Ministry of Housing, Communities and Local Government with a view to implementing some or all of those recommendations. If the reform programme proceeds, the landscape for enfranchisement could look considerably different in future. The law set out in this volume is current at the date of publication and gives an overview of how the law might change under the proposed reforms.







CLAUSE BANK vol 7(1)B
The title CLAUSE BANK (2021) provides access to thousands of practice-specific model clauses. It has been designed as a time and expense saving tool for the busy practitioner facing drafting issues for which he has no readily available precedent. The subscriber can search each volume of the Clause Bank by way of the easy to follow Contents pages which list all the clauses in groups according to the type of agreement in which they might be used. The subscriber can then select the appropriate clauses to supplement their own standard documentation.
Alternatively, by using the Clause Bank in conjunction with the bi-annually updated Form Finder, which provides a comprehensive and accurate guide to the forms and precedents within the Encyclopaedia, subscribers will be able to make more effective use of the Encyclopaedia itself by locating the deeds and agreements they require then supplementing them with additional or alternative clauses which correspond more closely with their clients' wishes.
Volume 7(1)A (2020) contains clauses for a range of commercially orientated documents, company documents and partnership documents. Volume 7(1)B (2021), which has been fully revised and updated in this reissue, contains clauses for use in connection with sale of land, mortgages and leasing of commercial property. Volume 7(1)C (2019) contains clauses for leasing of residential property, family, gifts, dealings with choses in action, trusts and wills.
The clauses in the Clause Bank are not drafted to fit into a particular framework and some adaptation will be required when used. Defined terms are often phrased with the intention of clearly identifying the person or body being referred to, and therefore frequently are not the terms that would be used in an actual document.
Clauses are drafted on the presumption that standard interpretation clauses are employed in the document. If this is not the case the user should be aware that amendments may be required.





Selective updates TOP

July2021, Service Issue 141
Volumes 14(1)A EMPLOYMENT
Section (4) Executive Service Agreements has been fully updated.

Volumes 2(1) AGRICULTURAL TENANCIES; 23(1), 23(2), 23(3), 23(4), 24(1)
LANDLORD ANDTENANT
These titles have been further revised to reflect the latest legislative amendments to the
Coronavirus Act 2020 Schedule 29 (residential tenancies in England and Wales:
protection from eviction) including those brought about by the Coronavirus Act 2020
(Residential Tenancies: Protection from Eviction) (Amendment) (England) (No 2) Regulations
2021, SI 2021/564 and the Assured Tenancies and Agricultural Occupancies (Forms)
(England) (Amendment) and Suspension (Coronavirus) Regulations 2021, SI 2021/562.


March 2021, Service Issue 140
Volumes 12(2)A, 12(2)B DATA PROTECTION AND FREEDOM
OF INFORMATION
These volumes have been updated to take into account the coming into force of the
UK GDPR on IP completion day.
Volume 23(3) LANDLORD ANDTENANT
Andrew Whittaker, LL.B., Solicitor, has revised a number of precedents to reflect
recent legislative changes.

December 2020, Service Issue 139
Volume 14(1)A EMPLOYMENT
A number of forms have been revised following recent changes to legislation.
Volume 2(1) AGRICULTURAL TENANCIES; Volume 23(3), 23(4), 24(1) LANDLORD AND TENANT
These titles have been further revised to reflect the latest legislative amendments to the Coronavirus Act 2020 Schedule 29 (residential tenan-cies in England and Wales: protection from eviction) including those brought about by the Coronavirus Act 2020 (Residential Tenancies: Protec-tion from Eviction) (Amendment) (England) Regulations 2020, SI 2020/914 and the Coronavirus Act 2020 (Residential Tenancies: Protection from Evic-tion) (Wales) Regulations 2020, SI 2020/1044.
Volume 42(1) WILLS AND ADMINISTRATION
This update includes two new attestation clauses on virtual witnessing (temporarily permitted as a result of difficulties caused by the Covid pan-demic) provided by Professor Lesley King, LL.B., Dip. Crim., Solicitor, Pro-fessor and Professional Development Consultant with the University of Law.

September 2020, Service Issue 138
Volume 14(1)B EMPLOYMENT
This update includes the latest versions of forms issued by the Certification Officer.
Volume 14(1)C EMPLOYMENT
A number of forms have been revised in light of forthcoming changes to data protection legislation.
Volumes 16(3)A, 16(3)B FINANCIAL SERVICES
Qalid Mohamed, LL.B, Solicitor, has thoroughly updated the commentary on regulated and prohibited activities (Section 3), financial promotion (Section 6) and regulation of change and control (Section 7) including anticipated legislative changes brought about by the Financial Services and Markets Act 2000 (Amendment) (EU Exit) Regulations 2019, SI 2019/632.

June 2020, Service Issue 137
Volume 14(1)B EMPLOYMENT
A number of forms within the Collective Rights and Trade Unions section have been fully revised to reflect recent developments. Further revisions will be included in Service Issue 138.
Volumes 2(1) AGRICULTURAL TENANCIES; 23(1), 23(2), 23(3), 23(4), 24(1) LANDLORD AND TENANT
Coronavirus Act 2020 Schedule 29: These titles have been updated following the recent legislative amendments to provide residential tenancies in England and Wales with protection from eviction.




TITLES, CONTRIBUTORS, RELEASE DATES TOP
Contributors and consultants are described as they were at the time of the last rewrite of each title and not necessarily as they are now. Meanings of release dates.

Editor in Chief TOP
The Rt. Hon. Lord Millett, P.C., Lord of Appeal in Ordinary

Contributing Authors TOP
Volume 1
ADVERTISING AND MARKETING: 10/2006. Last amended 08/2014
of Osborne Clarke
STEPHEN GROOM, M.A. (Oxon), Solicitor
NICK JOHNSON, M.A. (Cantab), Solicitor
JAMES POND, B.A. (Oxon), LL.M. (Cantab), Solicitor

Volume 2(1)
AGRICULTURAL TENANCIES: 05/2015
CAROLINE BAINES, LL.B., Solicitor

Volume 2(2)
AGRICULTURE: 11/2015
CAROLINE BAINES, LL.B., Solicitor
BRUCE MONNINGTON, M.A., Dip EU Law, LL.M., Barrister
Fenners Chambers
Michelmores
DAVID RICHARDSON, LL.B., Solicitor
MARK HOWARD, B.A., MA., Solicitor
JEMMA LASCELLES, ACA., CTA

Volume 2(3)
ALLOTMENTS, SMALLHOLDINGS AND GARDENS: 07/2012
CAROLINE BAINES LL.B., Solicitor
BRUCE MONNINGTON, , LL.M., M.A., Dip EU Law, Barrister
NICHOLAS RADCLIFFE, Solicitor
ANIMAL PROTECTION AND HEALTH: 07/2012
BRUCE MONNINGTON, , LL.M., M.A., Dip EU Law, Barrister

Volume 3(1)
ARBITRATION AND ALTERNATIVE DISPUTE RESOLUTION: 04/2018
OLIVER MARSDEN, B.A. (Hons), Solicitor,
Freshfields Bruckhaus Deringer LLP
NIGEL RAWDING, Q.C., B.A. (Hons), Solicitor,
Freshfields Bruckhaus Deringer LLP
The contributors wish to thank Oliver Spackman, Olivia Valner, Annie Pan, Felix Schaaf, Monika Hlavkova, Joshua Kelly and Leonie Beyrle of Freshfields Bruckhaus Deringer LLP for their valued assistance in connection with this title.

AUCTIONEERS, ESTATE AGENTS AND VALUERS: 04/2018
JAMES E. PETTS, LL.B., B.C.L (Oxon), of Middle Temple, Barrister,
36 Civil, London
JONATHAN ROBERTS, M.A. (Oxon), Solicitor,
Ronald Fletcher Baker LLP
RICHARD ROBERTS, M.A. (Oxon), M.Phil (Cantab), of Lincoln's Inn, Barrister,
Gough Square Chambers, London

BAILMENT: 04/2018
MICHAEL PROCTOR, B.C.L., M.A. (Oxon), of Lincoln's Inn, Barrister
Quadrant Chambers, London

Volume 3(2)
BANKRUPTCY AND INSOLVENCY (INDIVIDUAL INSOLVENCY): 11/2017
Commentary
STEPHEN WHITAKER, M.A., B.C.L. (Oxon), Barrister
No5 Chambers
Precedents
OMAR ENSAFF, LL.B. (LSE), Barrister
No5 Chambers
With additional precedents contributed by:
MARC BROWN, M.A., B.C.L. (Oxon), Barrister
St Philips Stone
KATIE LONGSTAFF, LL.B., ELS. (Dunelm), Barrister
St Philips Stone

Volume 3(3)
BANKRUPTCY AND INSOLVENCY (CORPORATE INSOLVENCY): 08/2018
STEPHEN WHITAKER, M.A., B.C.L. (Oxon), Barrister,
No5 Chambers
OMAR ENSAFF LLB (LSE), Barrister,
No5 Chambers

Volume 4(1)
BANKING: 07/2013. Last amended 08/2014
PAUL S. DOWNES, Q.C., B.A. (Oxon), A.C.I.B, Barrister
of 2 Temple Gardens, London
EMILY SAUNDERSON, B.A. (Hons), Barrister
of 2 Temple Gardens, London
BILLS OF EXCHANGE, BILL OF SALE, BONDS: 07/2013
ALISTAIR ABBOTT, M.A., Solicitor

Volume 4(2)
BUSINESSES: 06/2011. Last amended 05/2012
Advisory Editor
RAYMOND F. SNOW, LL.B. (Hons), Solicitor
Contributors
CHARLES DE LA FUENTE, M.A., Solicitor
Partner at ODT Solicitors LLP
TIM SEWELL, M.A (Oxon), Solicitor

Volume 4(3)
BOILERPLATE AND COMMERCIAL CLAUSES: 08/2017
MARK ANDERSON, Solicitor
Anderson Law LLP, Shillingford, Oxfordshire
VICTOR WARNER, Solicitor
Anderson Law LLP

Volume 5
BUILDING AND ENGINEERING: 10/2013
Commentary
DARRYL ROYCE, B.A., Barrister
Atkin Chambers
Precedents
ANN LEVIN, Solicitor
MICHAEL MENDELBLAT, Solicitor
Both of Herbert Smith Freehills, London

Volume 6(1)
BUILDING SOCIETIES: 08/2021
RICHARD MARTIN, B.A.
BURIAL AND CREMATION: 02/2002. Last amended 02/2017
CHRISTOPHER P. DUGGAN, LL.B., Solicitor
Director of Legal & Administration Services, Havant Borough Council

Volume 6(1)B
CARRIERS: 04/2018
Carriage by Road and Rail
JOHN S. HODGSON, M.A., LL.M. (Cantab), FHEA, Solicitor (non-practising)
Associate Lecturer, Nottingham Law School
Carriage by Air
MARK FRANKLIN, LL.B., Solicitor
Head of Aviation, DLA Piper UK LLP
KATHRYN WARD, B.A., Solicitor
Partner, DLA Piper UK LLP
The Publishers wish to thank Sophie Brophy, LL.B., Solicitor, Camilla Bonfield, B.A., Solicitor and Elizabeth Warwick, LL.B., Solicitor of DLA Piper UK LLP for their valued assistance in connection with the CARRIAGE by AIR section of this title.
COMMONS: 04/2018
THOMAS COCKBURN, B.A., Barrister
9 Stone Buildings
PAUL WILMSHURST, B.A., Barrister
9 Stone Buildings

Volume 6(2)
CHARITIES AND CHARITABLE GIVING: 08/2018
Contributor
FRANCESCA QUINT, LL.B., A.K.C.,
Radcliffe Chambers, Lincoln's Inn, Barrister
Advisory Editor (Taxation)
ELIZABETH JONES, B.A., Solicitor,
Farrer & Co


Volume 7
CHOSES IN ACTION: 06/2017
A team of lawyers from 5 Stone Buildings, Lincoln's Inn, London:
LUKE HARRIS, LL.B., Barrister
HARRY MARTIN, LL.B., Barrister
CHRISTOPHER SEYMOUR, B.A., B.C.L., Barrister
CIVIL AVIATION: 06/2017
Principal contributor
ROBERT RICKETTS, LL.B., MRAeS, Solicitor
Holland and Knight (UK) LLP
Associate contributor
GWYN O?FLYNN, LL.B., ACII, Solicitor
Holland and Knight (UK) LLP
CLUBS: 06/2017
Principal contributor
GARY GRANT, B.A. (Hons), Barrister
Francis Taylor Building, Inner Temple, London
Associate contributor
CHARLES STREETEN, M.A., Barrister
Francis Taylor Building, Inner Temple, London

Volume 7(1)A
CLAUSE BANK: 10/2020
The Publishers wish to thank Dr Mark Abell, PhD., LL.B., Solicitor, Partner, Bird & Bird for his valued help and assistance in connection with the FRANCHISE AGREEMENT clauses.

Volume 7(1)B
CLAUSE BANK: 02/2014. Last amended 03/2019
The Publishers wish to thank ANDREW WHITTAKER, LL.B., Solicitor for his valued help and assistance with this volume.

Volume 7(1)C
CLAUSE BANK: 11/2021
Advisory Editors
LUKE HARRIS, LL.B., Barrister
5 Stone Buildings, Lincoln's Inn, London
MARI KNOWLES, LL.B., Solicitor
Commonhold and Leasehold Experts Limited
HARRY MARTIN, LL.B., Barrister
5 Stone Buildings, Lincoln's Inn, London
JAMES POOLE, M.A. (Oxon), Barrister
10 Old Square, Lincoln's Inn, London
GEOFFREY SHINDLER, OBE, M.A., LL.M. (cantab)
Old Trafford Consulting Ltd
CLAIRE WILLS-GOLDINGHAM, Q.C., LL.B., Barrister
Colleton Chambers, Exeter
Volume 7(2)
COMMERCIAL CONTRACTS AND OTHER DOCUMENTS: 06/2016
MARK ANDERSON, Senior Partner
Anderson Law LLP, Shillingford, Oxfordshire
VICTOR WARNER, Solicitor
Anderson Law LLP

Volume 8(1)
COMMONHOLD: 10/2019
MARI KNOWLES, LL.B., Solicitor
Commonhold and Leasehold Experts Limited

Volume 8(2)
COMPULSORY ACQUISITION: 05/2012 Last amended 03/2019
DAVID J. HAWKINS, LL.B., Solicitor
Consultant at Nabarro LLP

Volume 9(1)
COMPANIES: 10/2018
Contributors
KRISTINA LUKACOVA, B.A. (Law), B.C.L, Barrister
New Square Chambers, Lincoln's Inn
HERMIONE ROSE WILLIAMS, LL.B. (Law with Advanced Studies), UCL, Barrister
New Square Chambers, Lincoln's Inn
Advisory Editor (Taxation)
ANNE FAIRPO, M.A., ATT, CTA (Fellow)., Barrister
Temple Tax Chambers, Middle Temple

Volume 9(2)
COMPANIES: 02/2019
KIRA KING, B.A., B.C.L. (Oxon), Barrister
XXIV Old Buildings, Lincoln's Inn
BEN WAISTELL, B.A., LL.M., Barrister
XXIV Old Buildings, Lincoln's Inn
The Publishers wish to thank Anne Fairpo, M.A., ATT, CTA (Fellow)., Barrister
Temple Tax Chambers, Middle Temple and Eile Gibson, C.T.A., Solicitor, Tower Bridge Tax Practice, for their valued help and assistance in connection with this volume.

Volume 10(1)
COMPANIES: 04/2017
TIM SEWELL, M.A., (Oxon), Solicitor

Volume 10(2)
COMPANIES: 10/2014
Commentary
TIM SEWELL, M.A. (Oxon), Solicitor
Forms and Precedents
David J Cooke, M.A. (Cantab), Circuit Judge

Volume 11
COMPANIES: 08/2017
TIM SEWELL, M.A., (Oxon), Solicitor
The Publishers wish to thank Eile Gibson, C.T.A., Solicitor, Tower Bridge Tax Practice,
Emma Knight, LL.B., Barrister, Three Stone, Lincoln's Inn, London and Anthony Turner,
Partner, Farrer & Co for their valued help and assistance in connection with this volume.

Volume 12(1)A
CONSUMER CREDIT: 11/2017
THOMAS EVANS, M.A. (Oxon), of Lincoln's Inn, Barrister
Henderson Chambers, 2 Harcourt Buildings, Temple, London
GEORGE MALLET, B.A. Hons (Bristol), of Gray's Inn, Barrister
Henderson Chambers, 2 Harcourt Buildings, Temple, London

Volume 12(1)B
CONTRACTS FOR SERVICES: 03/2020
MARK ANDERSON, Solicitor
Anderson Law LLP, Shillingford, Oxfordshire
VICTOR WARNER, Solicitor
Anderson Law LLP

Volume 12(2)A
DATA PROTECTION AND FREEDOM OF INFORMATION: 04/2020
Duncan Finlyson, LL.B., Solicitor, Infolegal Ltd
Susan Singleton, LL.B., Solicitor, Singletons

Volume 12(2)B
DATA PROTECTION AND FREEDOM OF INFORMATION: 04/2020
Duncan Finlyson, LL.B., Solicitor, Infolegal Ltd
Susan Singleton, LL.B., Solicitor, Singletons

Volume 12(3)
CONFIDENTIALITY: 11/2017
MARK ANDERSON, Solicitor
Anderson Law LLP, Shillingford, Oxfordshire
VICTOR WARNER, Solicitor
Anderson Law LLP
DEEDS, AGREEMENTS AND DECLARATIONS: 11/2017
ANDREW WHITTAKER, LL.B., Solicitor

Volume 13(1)
COVENANTS RELATING TO LAND: 05/2018
ANDREW WHITTAKER, LL.B., Solicitor

EASEMENTS AND PROFITS A PRENDRE: 05/2018. Last amended: 07/2019
ANDREW WHITTAKER, LL.B., Solicitor

Volume 13(2)
EDUCATION: 11/2020
ED DUFF, LL.B., Solicitor, HCB Widdows Mason Ltd
LAURA CARR, LL.B., Solicitor, HCB Solicitors Ltd

Volume 13(3)
E-COMMERCE: 12/2010
Co-ordinating Editor
CHRIS COULTER, B.A. (Oxon), Solicitor
at Morrison & Foerster LLP
Contributors
at Morrison & Foerster LLP
ANN BEVITT, M.A. (Oxon), Solicitor
CHRIS COULTER, B.A. (Oxon), Solicitor
SONIA GIRGIS, LL.B., B.Bus., Solicitor
ED LUKINS, LL.M., Solicitor
ANTHONY NAGLE, LL.B., Solicitor
MASAYUKI NEGISHI, B.Eng., B.Sc., M.Sc., Solicitor
TIM ROUGHTON, M.Eng. (Oxon), Solicitor
SVAJUNE SAKALYTE, LL.M., Lawyer (Lithuania)
MICHAEL SWINSON, LL.B., Solicitor (Australia)
The Publishers wish to thank Nick Saunders, Barrister, of Brick Court Chambers, London, for his valued help and assistance in connection with Intellectual Property.
Contributors to the 2001 volume were the technology group at Ashurst LLP, London, with the co-ordinating editor Chris Coulter, Solicitor. The Publishers wish to thank Mark Lubbock, M.A. (Cantab), Solicitor of Ashurst LLP, London, for his continuing support in connection with this volume.

Volume 14
ECCLESIASTICAL LAW (INCLUDING RELIGIOUS GIFTS): 08/2020
I. S. BLANEY Esq., M.A. (Cantab), LL.B., LL.M. (Canon Law) (Cardiff), Solicitor
Partner, Lee Bolton Monier-Williams LLP
Registrar of the Diocese of Lincoln
Deputy Registrar of the Court of Faculties of the Archbishop of Canterbury
Deputy Registrar of the Diocese of Guildford

Volume 14
Energy (Renewables): 08/2020
Contributors
BEGONIA FILGUEIRA, LL.B., Solicitor, EU Lawyer and Spanish Abogada
Acuity Law LLP, London
BRIAN D. WAKE, LL.B., Solicitor
Excello Law, Chester

Volume 14(1)A
EMPLOYMENT: 08/2021
Contributors
TIM SEWELL, M.A., (Oxon), Solicitor
Precedents revised by the Lexis PSL Employment team

Volume 14(1)B
EMPLOYMENT: 1/2016. Last amended 09/2020
Contributors
TIM SEWELL, M.A., (Oxon), Solicitor
Mishcon de Reya LLP
LOUISE BLACKER, LL.B., Solicitor
STEPHEN DIOSI, LL.B., Solicitor

Volume 14(1)C
EMPLOYMENT: 11/2021.
Contributors
TIM SEWELL, M.A., (Oxon), Solicitor
Precedents revised by the Lexis PSL Employment team

Volume 14(3)
ENERGY (PIPELINES): 11/2021
Contributor
BEGONIA FILGUEIRA, LL.B. (Hons), Solicitor, Abogada
Director of the Environmental Regulation and Information Centre (ERIC) Group Ltd, Fellow of IEMA and Chartered Green Banker.
The Publishers wish to thank AARON WALDER, M.A., M.Phil (Cantab), Barrister, Landmark Chambers, for his valued help and assistance in connection with the section covering the acquisition of rights by agreement.Director of ERIC (Environmental Regulation and Information Centre) GROUP Ltd

Volume 15(1)
ENTERTAINMENT AND MEDIA: 07/2014
MICHAEL HENRY,
Partner, Henry Hepworth, Solicitors

Volume 15(2)
ENTERTAINMENT AND MEDIA: 10/2014
MICHAEL HENRY,
Partner, Henry Hepworth, Solicitors

Volume 15(3)
ENTERTAINMENT AND MEDIA: 05/2015
MICHAEL HENRY,
Partner, Henry Hepworth, Solicitors

Volume 16(1)
FENCES, BOUNDARIES AND PARTY WALLS: 10/2019
BRUCE MONNINGTON, M.A., Dip EU Law, LL.M., Barrister
FISHERIES AND FISHING: 10/2019
ESTHER STIRLING, LL.B., Solicitor
Harrison Clark Rickerbys
FORESHORE: 10/2019
ESTHER STIRLING, LL.B., Solicitor
Harrison Clark Rickerbys
FORESTRY: 10/2019
BRUCE MONNINGTON, M.A., Dip EU Law, LL.M., Barrister
FRIENDLY SOCIETIES: 10/2019
JOHN GILBERT, M.A., Solicitor (retired)
RICHARD MARTIN, B.A.
Volume 16(2)
FAMILY: 04/2016. Last amended 03/2018
ABIGAIL BOND, B.A. (Oxon)., LL.M., Barrister
St John?s Chambers, Bristol
ELEANOR HARDING, M.A. (Cantab), Solicitor
SARAH PHILLIMORE, Barrister
St John?s Chambers, Bristol
JAMES PIRRIE, Solicitor
Mediator, Arbitrator and Collaborative Lawyer
Family Law in Partnership Ltd, London
NICHOLAS RADCLIFFE, Solicitor
DAVID SALTER, M.A., LL.M., Solicitor
Consultant, Mills & Reeve LLP, Leeds
DAVID WHEELER, B.A. (Hons), Solicitor
Mediator and Collaborative Lawyer
Legal Director, TLT LLP, Bristol
CHRIS WHITEHOUSE, B.A., B.C.L., Barrister
5 Stone Buildings, Lincoln's Inn, London
CLAIRE WILLS-GOLDINGHAM, Q.C., LL.B., Barrister
Colleton Chambers, Exeter

Volume 16(3)A
FINANCIAL SERVICES: 05/2015. Last amended 09/2020
Principal Contributors
RPC LLP, Regulatory, Corporate Insurance and Financial Services, and Banking and Finance Groups
SAM BISHOP, Associate
STEVE WYNDHAM, Senior Associate
Outer Temple Chambers
TIM GREEN, Barrister
ROBIN BARCLAY, Barrister
MICHAEL UBEROI, Barrister
CLARE BAKER, Barrister
SAAMAN POURGHADIRI, Barrister
Associate Contributors
The following solicitors from RPC LLP?s Regulatory, Corporate Insurance and Financial Services, and Banking and Finance Groups
RICHARD BURGER, Partner
GEORGE BELCHER, Legal Director
MARCUS BONNELL, Counsel, Regulatory
ANDREW PRICE, Associate
Assistants to the Contributors at RPC LLP
RACHAEL ELLIS, Trainee Solicitor
ERICA LEHMAN, Trainee Solicitor
EMMA KISLINGBURY, Trainee Solicitor
KRISTIANA REYNOLDS, Trainee Solicitor

Volume 16(3)B
FINANCIAL SERVICES: 02/2015. Last amended:09/2020
Principal Contributors
RPC LLP, Regulatory, Corporate Insurance and Financial Services, and Banking and Finance Groups
SAM BISHOP, Associate
STEVE WYNDHAM, Senior Associate
Thirteen Old Square Chambers
RICHARD PEAT, B.A., (Hons), LL.M, Barrister

Associate Contributors
The following solicitors from RPC LLP's Regulatory, Corporate Insurance and Financial Services, and Banking and Finance Groups
RICHARD BURGER, Partner
SUKH AHARK, Partner
GEORGE BELCHER, Legal Director
ADAM CHAMBERLAIN, Senior Associate
ANDREW PRICE, Associate
REBECCA DULIEU, Associate
OLIVER MURPHY, Associate
ALEXIS HOGAN, Associate

Assistants to the Contributors at RPC LLP
KRISTIANA REYNOLDS, Trainee Solicitor
EMILY MCGREGOR, Trainee Solicitor

Volume 16(4)
FRANCHISING, AGENCY AND DISTRIBUTION: 04/2014
DR. MARK ABELL, PhD., LL.B., Solicitor
Partner, Bird & Bird
The 2003 version of this volume was contributed by Mark Abell and David Bond of Field Fisher Waterhouse.

Volume 17(1)
GAMBLING: 11/2020
CHRISTOPHER BAMFORD, LL.B.
of the Inner Temple, Barrister

Volume 17(2)
GIFTS: 11/2017
LESLEY KING, LL.B., Dip. Crim., Solicitor
Professor and Professional Development Consultant with the University of Law
NICHOLAS RADCLIFFE, Solicitor
CHRIS WHITEHOUSE, B.A., B.C.L., Barrister
5 Stone Buildings, Lincoln's Inn, London

Volume 17(3)
GUARANTEES AND INDEMNITIES: 02/2016
ALISTAIR ABBOTT, M.A., Solicitor
HEALTH AND SAFETY AT WORK: 02/2016
ANDREA OATES, B.Sc.

Volume 18
HIGHWAYS: 09/2019
RAJ ARUMUGAM, M.A. (Cantab), Barrister
9 Stone Buildings, Lincoln's Inn
JILL HEADFORD, LL.B., Solicitor
Tozers LLP, Exeter
The Publishers wish to thank Eile Gibson, C.T.A., Tower Bridge Tax Practice, for her valued help and assistance with stamp duty land tax and VAT matters.
HOUSING: 09/2019
ROBIN GREEN, LL.B., Barrister
Cornerstone Barristers

Volume 19(1)
INFORMATION TECHNOLOGY: 07/2008
ROBERT BOND, B.A., FSALS, CompBCS, Solicitor
JAMES CASTRO-EDWARDS, LL.B., Solicitor
SAMANTHA KING, B.Sc., (Durham), Solicitor
MICHELLE LEWISTON, FILEX, Solicitor
NICHOLAS TALL, B.A., (Oxon), Solicitor

Volume 19(2)
JOINT VENTURES: 02/2014
CHARLES DE LA FUENTE, M.A., Solicitor
Partner at ODT Solicitors LLP
TIM SEWELL, M.A. (Oxon), Solicitor

Volume 20
INSURANCE: 03/2020
ANDREW McGEE, Barrister, Kings Chambers, Manchester, Leeds and Birmingham
Professor of Business Law at the University of Manchester

Volume 21(1)
INTELLECTUAL PROPERTY: 03/2015
MARK ANDERSON, Senior Partner
Anderson Law LLP, Shillingford
VICTOR WARNER, Solicitor
Anderson Law LLP, Shillingford

Volume 21(2)
INTELLECTUAL PROPERTY?COPYRIGHT: 07/2015
BERNIE NYMAN, B.A.(Law), Solicitor
Sole principal, B. M. Nyman & Co, London

Volume 21(3)
INTELLECTUAL PROPERTY?DESIGNS, BORDER MEASURES: 09/2015
ALISON FIRTH, M.A., M.Sc., Barrister
Ingenuity Intellectual Property Chambers; Professor in Law, University of Surrey; Visiting Professor, Newcastle University; Visiting Professor, Queen Mary, University of London
INTELLECTUAL PROPERTY?TRADE MARKS: 09/2015. Last amended 02/2017
ALISON FIRTH, M.A., M.Sc., Barrister
Ingenuity Intellectual Property Chambers; Professor in Law, University of Surrey; Visiting Professor, Newcastle University; Visiting Professor, Queen Mary, University of London
CHRISTY ROGERS, M.A., Barrister
INTELLECTUAL PROPERTY?TAXATION: 09/2015
JULIAN HICKEY, C.T.A (Fellow), Barrister
Temple Tax Chambers

Volume 22(1)
LANDLORD AND TENANT (BUSINESS TENANCIES): 10/2021
ANDREW WHITTAKER, LL.B., Solicitor

Volume 22(2)A
LANDLORD AND TENANT (BUSINESS TENANCIES): 10/2016
ANDREW WHITTAKER, LL.B., Solicitor

Volume 22(2)B
LANDLORD AND TENANT (BUSINESS TENANCIES): 02/2017
ANDREW WHITTAKER, LL.B., Solicitor

Volume 22(3)A
LANDLORD AND TENANT (BUSINESS TENANCIES): 06/2017
ANDREW WHITTAKER, LL.B., Solicitor

Volume 22(3)B
LANDLORD AND TENANT (BUSINESS TENANCIES): 01/2018
ANDREW WHITTAKER, LL.B., Solicitor

Volume 22(4)
LANDLORD AND TENANT (BUSINESS TENANCIES): 06/2019
ANDREW WHITTAKER, LL.B., Solicitor

Volume 23(1)
LANDLORD AND TENANT (RESIDENTIAL TENANCIES): 07/2020
Contributor
ANDREW WHITTAKER, LL.B., Solicitor

Volume 23(2)
LANDLORD AND TENANT (RESIDENTIAL TENANCIES): 01/2021
Contributor
ANDREW WHITTAKER, LL.B., Solicitor

Volume 23(3)
LANDLORD AND TENANT (RESIDENTIAL TENANCIES): 10/2015. Last amended: 09/2019
Contributor
ANDREW WHITTAKER, LL.B., Solicitor

Volume 23(4)
LANDLORD AND TENANT (RESIDENTIAL TENANCIES): 03/2016. Last amended: 09/2019
Contributor
ANDREW WHITTAKER, LL.B., Solicitor

Volume 24(1)
LANDLORD AND TENANT (SOCIAL HOUSING): 03/2019. Last amended: 12/2019
CLARE ANSLOW, B.A., Barrister
Hardwicke
ALEXANDER CAMPBELL, M.A. (Cantab), Ma?trise, LL.M., Barrister
Field Court Chambers
CLARE CULLEN, B.A., Barrister
Field Court Chambers
RYAN KOHLI, M.A. (Oxon), of the Inner Temple, Barrister
Cornerstone Barristers
SARAH MCKEOWN, M.A. (Oxon), Barrister
Field Court Chambers
ALAN MURDIE, LL.B., Barrister
SARAH SALMON, LL.B., LL.M., Barrister
Field Court Chambers
CAMERON STOCKS, LL.B., Barrister
Hardwicke
The Publishers wish to thank Eile Gibson, C.T.A., Solicitor, Tower Bridge Tax Practice, for her valued help and assistance in connection with this volume.

Volume 24(2)
LANDLORD AND TENANT (RECREATIONAL LETTINGS): 05/2020
IAN R. DAVISON, M.A., Solicitor
Partner, Surrey Hills Solicitors LLP

LANDLORD AND TENANT (RETIREMENT HOUSING): 05/2020
ALAN MURDIE, LL.B., Barrister
Nucleus Legal Advice & Council Tax Legal Services

Volume 25(1)A
LAND REGISTRATION: 08/2015.
RICHARD FEARNLEY, B.A., Solicitor
Former Land Registrar
Her Majesty?s Land Registry

Volume 25(1)B
LAND REGISTRATION: 09/2015
RICHARD FEARNLEY, B.A., Solicitor
Former Land Registrar
Her Majesty?s Land Registry

Volume 25(2)
LAND CHARGES: 10/2019
JIM WHITESIDE, LL.B., Solicitor (non-practising)
Land Registrar
Her Majesty's Land Registry

LEASING OF EQUIPMENT: 10/2019
BILL McCAFFREY, LL.B., DipLP, NP,
CMS Cameron McKenna Nabarro Olswang LLP
The Publishers wish to thank David Bennett, LL.B., Barrister, Hailsham Chambers, Eile Gibson, C.T.A., Tower Bridge Tax Practice and Deborah Ramshaw, LL.B., Solicitor, Hempsons for their valued help and assistance in connection with this title.

Volume 25(3)A
LEASEHOLD FLAT SCHEMES (LONG LEASES): 09/2013. Last amended 08/2014
STEPHEN WHITTAKER, B.A., Solicitor
Weightmans LLP

Volume 25(3)B
LEASEHOLD FLAT SCHEMES (LONG LEASES): 10/2013. Last amended 08/2014
RICHARD FROST B.A, Solicitor
Consultant with plainlaw
STEPHEN WHITTAKER, B.A., Solicitor
Weightmans LLP

Volume 25(3)C
LEASEHOLD FLAT SCHEMES (LONG LEASES): 04/2014
STEPHEN WHITTAKER, B.A., Solicitor
Weightmans LLP

Volume 25(4)
LEASEHOLD REFORM AND ENFRANCHISEMENT: 08/2021
ANDREW WHITTAKER, LL.B., Solicitor

Volume 26(1)
LICENSING: 02/2017
CHRISTOPHER BAMFORD, LL.B.
of the Inner Temple, Barrister

Volume 26(2)A
LOCAL GOVERNMENT: 02/2019
IAN R. DAVISON, M.A., LL.M, Solicitor
Surrey Hills Solicitors
KATE JACKSON, LL.B, Solicitor
Surrey Hills Solicitors
RATING: 02/2019
CLIVE MOYS, LL.B, of Lincoln's Inn, Barrister, Radcliffe Chambers
Former Local Government Solicitor

Volume 26(2)B
LICENSED PREMISES: 05/2019
JUSTIN NICHOLAS GRAVES, LL.B., (Hons), Solicitor
Gosschalks
PHILIP KOLVIN, Q.C., M.A. (Oxon), FRSA., Barrister
Cornerstone Barristers, 2?3 Gray's Inn, London
RICHARD JOHN TAYLOR B.A., (Hons), Solicitor
Gosschalks
The Publishers wish to thank EILE GIBSON, C.T.A., Solicitor, Tower Bridge Tax Practice, for her valued help and assistance in connection with the LICENSED PREMISES.

MARKETS AND FAIRS: 05/2019
EDWARD F. COUSINS B.A., LL.M., B.L., Bencher of Lincolns Inn, of Gray's Inn and King's Inns
ANDREW WHITTAKER, LL.B., Solicitor

MOBILE HOMES, CARAVANS AND CAMPSITES: 05/2019
AMY CATER, B.A., Solicitor
Tozers LLP
PAUL KELLY, B.A., Solicitor
Tozers LLP

Volume 26(3)
MINES, MINERALS AND LANDFILL: 11/2019
PAUL G. CALLADINE, B.A., F.I.Q., Solicitor
Gunnercooke LLP, Manchester
BRIAN D. WAKE, LL.B., Solicitor
Excello Law, Chester

Volume 27
MORTGAGES: 03/2020
ANDREW WHITTAKER, LL.B., Solicitor

Volume 28(1)
MORTGAGES: 06/2021
ANDREW WHITTAKER, LL.B., Solicitor

Volume 28(2)
MORTGAGES: 11/2013.
ANDREW WHITTAKER, LL.B., Solicitor

Volume 28(3)
MORTGAGES: 05/2014
ANDREW WHITTAKER, LL.B., Solicitor

Volume 29
NAME, CHANGE OF: 09/2020
MARI KNOWLES LLB, Solicitor
Commonhold and Leasehold Experts Limited
OPEN SPACES: 09/2020
MARI KNOWLES LLB, Solicitor
Commonhold and Leasehold Experts Limited
The Publishers wish to thank Matthew Hollamby, Associate, Commonhold and Leasehold Experts Limited for their valued help and assistance in connection with this title.
PARLIAMENTARY DOCUMENTS: 09/2020
MARI KNOWLES LLB, Solicitor
Commonhold and Leasehold Experts Limited
PARTITION: 09/2020
MARI KNOWLES, LL.B., Solicitor
Commonhold and Leasehold Experts Limited

Volume 30(1)
PARTNERSHIP:09/2018
MARK BLACKETT-ORD, M.A. (Oxon), Barrister
5 Stone Buildings, Lincoln's Inn
SARAH HAREN, M.A. (Oxon), Barrister
5 Stone Buildings, Lincoln?s Inn

Volume 30(2)
PARTNERSHIP: 09/2018
MARK BLACKETT-ORD, M.A. (Oxon), Barrister
5 Stone Buildings, Lincoln's Inn.
SARAH HAREN, M.A. (Oxon), Barrister
5 Stone Buildings, Lincoln's Inn.

Volume 30(3)
PARTNERSHIP: 11/2018
MARK BLACKETT-ORD, M.A. (Oxon), Barrister
5 Stone Buildings, Lincoln's Inn.
SARAH HAREN, M.A. (Oxon), Barrister
5 Stone Buildings, Lincoln's Inn.

Volume 31(1)
PENSION SCHEMES: 09/2016. Last amended 12/2019
Advisory Editor
WYN DERBYSHIRE, PhD., Solicitor
Partner, Gunnercooke LLP
Consultant, King & Wood Mallesons
Contributor
TIM SEWELL, M.A. (Oxon), Solicitor

Volume 31(2)
PIPE-LINES: 10/2008. Last amended 05/2010
HOWARD COFFELL, M.A. (Oxon), Solicitor
POWERS OF ATTORNEY: 09/2021
Craig Ward, Baron of Lundie, M.Sc. B.A. (Hons), TEP, Solicitor

Volume 32
RESEARCH AND DEVELOPMENT: 09/2016
MARK ANDERSON, Managing Partner
Anderson Law LLP, Shillingford, Oxfordshire
VICTOR WARNER, Solicitor
Anderson Law LLP

REGISTERED SOCIETIES: 09/2016
GARETH D. REED LL.B., ACIS, Solicitor

Volume 33
POWERS OF APPOINTMENT: 09/2019
CHRIS WHITEHOUSE, B.A., B.C.L., Barrister
5 Stone Buildings, Lincoln's Inn, London
RECTIFICATION AND CONFIRMATION OF DEEDS: 09/2019
TIM BALDWIN, B.Sc., Ph.D., LL.B., M.A., Barrister
Garden Court Chambers, London
RENTCHARGES AND ANNUITIES: 09/2019
CHRIS WHITEHOUSE, B.A., B.C.L., Barrister
5 Stone Buildings, Lincoln's Inn, London
ROYAL CHARTERS: 09/2019
ADRIAN BELL, LL.B., Dip L.P, WS, Solicitor
Morton Fraser LLP
ROBERT BULLING
Consultant, Maurice Turnor Gardner LLP
Former Deputy Clerk of the Privy Council

Volume 34
SALE OF GOODS: 04/2011. Last amended 09/2017
Co-ordinating Editor
NORMAN PALMER, Q.C. (Hon), C.B.E., F.S.A., M.A., B.C.L., Hon Dr Juris, of Gray's Inn, Barrister
Chair of the Treasure Valuation Committee
Visiting Professor of Law at King?s College London
Adjunct Professor of Law at the University of Tasmania
Emeritus Professor of the Law of Art and Cultural Property at University College London
Principal Contributors
LUKE HARRIS, L.L.B., of the Inner Temple, Barrister
ANTHONY HUDSON, M.A., LL.B., Ph.D., of Lincoln's Inn, Barrister
Emeritus Professor of Common Law, University of Liverpool
NORMAN PALMER, Q.C. (Hon), C.B.E., F.S.A., M.A., B.C.L., Hon Dr Juris, of Gray's Inn, Barrister
Associate Contributors
NICHOLAS QUEREE, B.A., LL.M., of Gray's Inn, Barrister
JOHN KNOTT,
Consultant, Holman Fenwick Willan LLP

Volume 35
SALE OF LAND: 02/2019
ANDREW WHITTAKER, LL.B., Solicitor
The Publishers wish to thank Linda Adelson, B.Sc., Solicitor, Rosetta Tax (www.rosettatax.com) and Graham Callard, LL.B., LL.M., MCIArb, TEP, Barrister, 9 Stone Buildings for their valued help and assistance in connection with this volume.

Volume 36
SALE OF LAND: 09/2019
ANDREW WHITTAKER, LL.B., Solicitor

Volume 37
SALE OF LAND:08/2020
Contributor
LAURENCE TARGET, M.A. (Oxon, Lond), P.G.C.E., Solicitor
Trowers & Hamlins LLP

Volume 38(1)
SALE OF LAND: 09/2018. Last amended 07/2019
ROSAMUND BAKER, B.C.L. (Oxon), Barrister, Selborne Chambers
STEPHEN BOYD, B.Sc., PG Cert, FCIArb, CTAPS, Barrister and Mediator, Selborne Chambers
GRAHAM CALLARD, LL.B., LL.M., MCIArb, TEP, Barrister, 9 Stone Buildings,
SIMON COLVIN, B.Sc., FIEMA, Solicitor, Weightmans LLP
CHRIS DE BENEDUCCI, B.A. (Oxon), Barrister, Selborne Chambers
DAMIAN FALKOWSKI, A.R.C.M., B.MUS, M.MUS, LL.DIP, Barrister, 39 Essex Chambers
RICHARD HARWOOD, OBE, QC, Barrister, 39 Essex Chambers
BARNABY HOPE, LL.B., Barrister, Selborne Chambers
NICHOLAS TOWERS, MCIArb, Barrister, Selborne Chambers
RAHUL VARMA, LL.B., Barrister, Selborne Chambers
AARON WALDER, M.A., M.Phil (Cantab), Barrister, Landmark Chambers
LOUISE WARD, B.A., Solicitor, Charles Russell Speechlys LLP
ANDREW WHITTAKER, LL.B., Solicitor

Volume 38(2)
SALE OF LAND (COMMERCIAL PROPERTY): 11/2018
Contributors
Simon Colvin, B.Sc., FIEMA, Solicitor, Weightmans LLP
DAMIAN FALKOWSKI, A.R.C.M., B.MUS, M.MUS, LL.DIP, Barrister, 39 Essex Chambers
RICHARD HARWOOD, OBE, QC, Barrister, 39 Essex Chambers
AARON WALDER, M.A., M.Phil (Cantab), Barrister, Landmark Chambers
LOUISE WARD, B.A., Solicitor, Charles Russell Speechlys LLP
ANDREW WHITTAKER, LL.B., Solicitor
Advisory Editor (Taxation?VAT, SDLT)
GRAHAM CALLARD, LL.B., LL.M., MCIArb, TEP, Barrister, 9 Stone Buildings

Volume 38(3)
SALE OF LAND (COMMERCIAL PROPERTY): 10/2018
Contributors
ROSAMUND BAKER, B.C.L. (Oxon), Barrister, Selborne Chambers
STEPHEN BOYD, B.Sc., PG Cert, FCIArb, CTAPS, Barrister and Mediator, Selborne Chambers
CHRIS DE BENEDUCCI, B.A. (Oxon), Barrister, Selborne Chambers
BARNABY HOPE, LL.B., Barrister, Selborne Chambers
NICHOLAS TOWERS, MCIArb, Barrister, Selborne Chambers
RAHUL VARMA, LL.B., Barrister, Selborne Chambers
ANDREW WHITTAKER, LL.B., Solicitor
Advisory Editor (Taxation?VAT, SDLT)
GRAHAM CALLARD, LL.B., LL.M., MCIArb, TEP, Barrister, 9 Stone Buildings,

Volume 39(1)
SHIPPING: 10/1999. Last amended 08/2009
STUART BEARE, Solicitor
Consultant with Richards Butler, London
GRAEME BOWTLE, Solicitor
Consultant with Richards Butler, London
JANE MARTINEAU, Solicitor
Consultant with Clyde & Co, London

SOLICITORS: 12/2019
MATTHEW MOORE, LL.B., C. Dip. A.F., Solicitor
Infolegal Ltd
BRONWEN STILL, B.A., Solicitor
Infolegal Ltd
Lexis®PSL Practice Compliance
The Publishers wish to thank Roland D'Costa (formerly District Probate Registrar at Oxford) for his valued advice and assistance in connection with oaths, declarations and affirmations and Jayne Willetts (Solicitor Advocate) for her comments and assistance with the SRA disciplinary procedures and the Solicitors Disciplinary Tribunal.

TELECOMMUNICATIONS: 10/1999. Last amended 03/2012
Commentary
LARS DAVIES, M.A. (Cantab), LL.M.
Analyst, Ashurst Morris Crisp and Research Fellow, Information Technology Law Unit, Care for Commercial Law Studies, Queen Mary & Westfield College, University of London.
JAMES IBBETSON, M.A. (Cantab), Solicitor
Ashurst Morris Crisp, London
Precedents
RICHARD HORSLEY, LL.B., Solicitor
Beachcroft Wansbroughs, London

Volume 39(2)
SPORTS RIGHTS AND SPONSORSHIP: 08/2017
RICHARD A. VEROW, LL.B. (Hons), Solicitor

Volume 40(1)
TRUSTS AND SETTLEMENTS: 04/2017
LESLEY KING, LL.B., Dip. Crim., Solicitor
Professor and Professional Development Consultant with the University of Law
CHRIS WHITEHOUSE, B.A., B.C.L., Barrister
5 Stone Buildings, Lincoln's Inn, London

Volume 40(2)
TRUSTS AND SETTLEMENTS: 09/2017
LESLEY KING, LL.B., Dip. Crim., Solicitor
Professor and Professional Development Consultant with the University of Law
NICHOLAS RADCLIFFE, Solicitor
CHRIS WHITEHOUSE, B.A., B.C.L., Barrister
5 Stone Buildings, Lincoln's Inn, London

Volume 40(3)
TRUSTS AND SETTLEMENTS: 05/2019
LYNNE BRADEY, LL.B., T.E.P., Solicitor
Wrigleys Solicitors LLP
ANTHONY DESSAIN, LL.B., T.E.P., Advocate of the Royal Court of Jersey
Formerly of Bedell Cristin, Jersey
STEPHEN DIOSI, LL.B., Partner
Mishcon de Reya LLP
LESLEY KING, LL.B., Dip. Crim., Solicitor
Professor and Professional Development Consultant with the University of Law
CAROLINE NYE-WILKINS, LL.B., Associate
Mishcon de Reya LLP
CHRIS WHITEHOUSE, B.A., B.C.L., Barrister
5 Stone Buildings, Lincoln's Inn, London
The Publishers wish to thank Bedell Cristin, Jersey, for their valued help and assistance in connection with this volume.


Volume 41(1)
TIMESHARE AND FOREIGN PROPERTY: 11/2003
COLIN JENKINS, LL.B., Notary Public, Solicitor
PAUL DEAN, Industry Consultant, Paul Dean and Associates
JOHN HOWELL, LL.B., Solicitor, John Howell & Co, www.europelaw.com

Volume 41(2)
TIMESHARE AND FOREIGN PROPERTY: 04/2004
JOHN HOWELL, LL.B., Solicitor, John Howell & Co, www.europelaw.com

Volume 41(3)
TOWN AND COUNTRY PLANNING: 08/2020
NIGEL HEWITSON, MBA, LARTPI, Solicitor
Consultant, Gowling WLG LLP

Volume 41(4)
TOWN AND COUNTRY PLANNING: 03/2021
NIGEL HEWITSON, MBA, LARTPI, Solicitor
Consultant, Gowling WLG LLP

Volume 42(1)
WILLS AND ADMINISTRATION: 07/2016
LESLEY KING, LL.B., Dip. Crim., Solicitor
Professor and Professional Development Consultant with the University of Law
CHRIS WHITEHOUSE, B.A., B.C.L., Barrister

Volume 42(2)
WILLS AND ADMINISTRATION: 09/2020
ROLAND D'COSTA
Former District Probate Registrar at Oxford
ELIN DUKES, B.A., M.A., T.E.P., Solicitor
Consultant for Commonhold and Leasehold Experts Limited
EILE GIBSON, C.T.A.
Tower Bridge Tax Practice
LESLEY KING, LL.B., Dip. Crim., Solicitor
Professor and Professional Development Consul