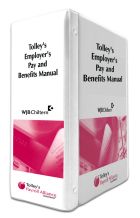 Employer's Pay and Benefits Manual
This content is unique to LexisNexis
Commentary
This work provides practical guidance to employers and payroll managers in order to protect, prepare and guide them in relation to accounting for tax and National Insurance contributions during the tax year and reporting and qualifying certain expenses and non-cash benefits after the year end.
The subject matter includes:

* an A to Z of benefits and expenses, allowing the work to be used as a day-to-day reference guide on tax and NICs treatment of common benefits and expenses
* general and specific aspects of benefits and expenses, including administration, recording and reporting of details and obtaining dispensations from the Revenue
* compliance with income tax and National Insurance requirements on benefits and expenses issues
* preparing for, conducting, and settling Revenue audits of employers' pay and benefits systems
* selected extracts from Revenue Manuals as well as relevant Statements of Practice, Extra-Statutory Concessions and Codes of Practice
* comprehensive tables of rates including tax, NI, authorised mileage rates and official rates of interest etc.
Essential guidance and assistance for the busy personnel manager, tax manager, finance director and payroll manager.
This source is updated three times a year.


SOURCE CURRENCY

Issue 69, June 2019

UPDATE INFORMATION

Part A

Updated to reflect recent changes.

Part B

Updated to reflect recent changes.

Part C

Updated to reflect recent changes.

Part D

Updated to reflect recent changes.