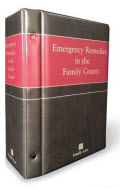 Emergency Remedies in the Family Court
Commentary
Currency: Issue 50 (September 2020)
In this issue nine divisions have been updated to reflect changes in procedural rules and practice directions and to deal with the current law and court decisions. It includes in particular the following:


Division D. Division D analyses the risks of retention of agreeing to short-term removal from the jurisdiction and how to protect against such risks with specific reference to Re M (Children) [2020] EWCA Civ 277 and [2020] EWHC 67 (Fam) and the value if any of assurances and waiver of international diplomatic immunity; whether COVID-19 can be relied on to object to a return order on the basis of the child and the issue of whether multiple applications, ie under the ChA 1989 and the Hague Convention 1980 can be pursued simultaneously for the return of an abducted child by reference to the decision in NY (A Child) [2019] UKSC 49 and Re N (A child) [2020] EWFC 35 and H v B (BIIa: Enforcement of domestic return order) [2020] EWHC 961 (Fam).


Division E. Division E sets out in relation to FMPO the four stages of the 'routemap' advanced by the President in Re K (FMPO: Passport Order) [2020] EWCA Civ 190 and how to deal with the conflict between Arts 3 and 8 rights; restrictions imposed and duration of FMPOs.


Division F. Division F includes the updated standard form of order taking in the amendments made to the standard Search Order following the case of Akhmedova v Akhmedov [2019] EWHC 3140 (Fam) and also sets out the form of order made in civil proceedings.


Division G. Division G sets out the practice and procedure on reporting restrictions/anonymisation in High Court appeals and appeals in financial remedies and children cases. It also summarises the procedure for variation or lifting of reporting restrictions and request by accredited reports for attendance at a hearing and refers to the guidance on remote hearings during the COVID-19 crisis.


Division I. Division I draws attention to appeals based on 'wrong in the exercise of discretion' to the limitations that apply to the appellate court's assessment of the approach to ECHR rights with reference to A v M (Children) [2020] EWCA Civ 283 and the court's power to review an order in the light of evidence since the original hearing.


Division J. Division J includes the Pre-action Protocol for Judicial Review; how any vires challenge to a PD made in relation to COVID-19 should be made by reference to Arkin v Marshall [2020] EWCA Civ 620 and includes an analysis of the decision in Re W (A Child by his LF) v Secretary of State for the Home Dept [2020] EWHC 1299 (Admin).