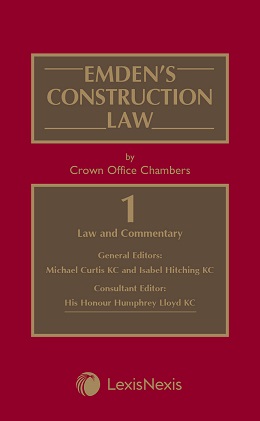 Emden's Construction Law by Crown Office Chambers
This content is unique to LexisNexis
Commentary
Emden's Construction Law by Crown Office Chambers is the leading source of authoritative and detailed information on the whole area of construction law.
Volume 1 consists of a detailed narrative exposition of the law in all key areas including: making the contract; performing the contract; third parties; and pursuing claims.
Volumes 2 and 3 contain the latest JCT 2016 and JCT 2011 suite of contracts.
This complete reference work is for all those involved in litigation, preparing tender or contract documents, working out claims for sub-contractors or advising borough architects or surveyors.
SOURCE CURRENCY
Issue 224, November 2023
Making the Contratct (Ch 1 to 4)
Chapter 8 Variations
Chapter 11 Liability for Design
Third Parties (Ch 17 to 22)
Chapter 20 Insurance